Cute Overload at Louboutin Party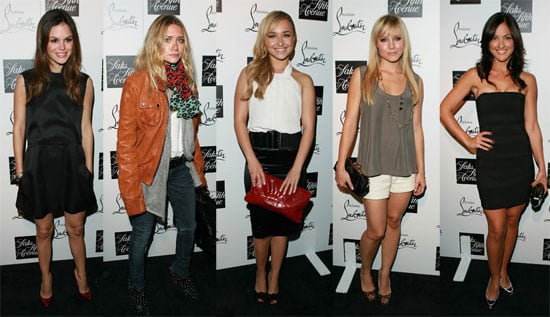 0
Cute Overload at Louboutin Party
Talk about Adorable Alert: Code Red at last night's party celebrating the arrival of Christian Louboutin at the LA Saks. Christian himself was there for the soiree along with some of his biggest starlet followers. Bilson, Hayden, Minka and Kristen were among the girls in their finest red-soled stilettos for the event. Lucky girls with their gorgeous shoes. Speaking of those Hero-ic ladies, don't miss Buzz's chat with the ever-endearing Kristen Bell! Loub devotee Ashley was there without her twin, but with her hot studded boots again. Oh, and I'm just going to go on believing that she borrowed the leather jacket off someone much larger than she is because she was cold on the red carpet. Trying to be optimistic here. Well, outside that all the girls looked fab (and how jealous am I if they got to pick up some of the hot shoes).
To see more from the party including Kate Mara, Molly Sims, Olivia Wilde, and all the ladies above just
Images include Christian Louboutin, Ashley Olsen, Minka Kelly, Rachel Bilson, Kristen Bell, Kate Mara, Hayden Panettiere, Molly Sims, Olivia Wilde, Elizabeth Rohm.