Sexy Lindsay graces the UK cover of GQ. The breaking news is it looks like she got a manicure for the photoshoot. Almost every page has an interesting LL quote ranging from her real boobs to smoking being a dirty habit to not believing in monogamy.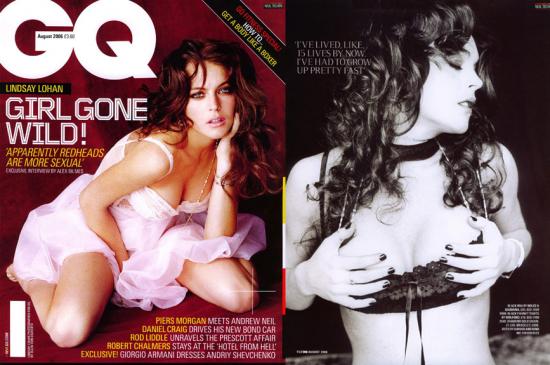 LL spent all weekend celebrating her birthday. In fact her party almost ruined a charity event. Luckily, the problem was solved and LL even played DJ to make up for it. Page Six reports:
LINDSAY Lohan's 20th birthday bash in Malibu almost spoiled a field day for Smashbox Cares, a charity that teaches autistic kids surfing. When the shuttle bus full of youngsters pulled up to the designated drop-off at Carbon Beach on Monday, it was blocked by Lohan's car. She had parked on Pacific Coast Highway in front of the Polaroid Beach House, where she spent the night after her birthday on Sunday, having misplaced her car keys. So the kids had to be dropped off farther up the busy road. But she made up for it by playing a three-hour deejay set - in a bikini - for the kids and pals like Jeremy Piven, Matthew Perry, Shannon Elizabeth and Woody Harrelson.
To see a lot more sexy images of LL in GQ, read more