Dakota Fanning in Marie Claire 2010-07-07 11:30:00
Dakota Fanning Looks All Grown Up in the Pages of Marie Claire
Dakota Fanning shows off a range of hairstyles in August's Marie Claire. She's riding high on the box office success of Eclipse, and now is taking it easy following her press whirlwind for the film — she joined her costars for the big LA premiere, and sat down last week for a solo interview on Jimmy Kimmel. Dakota spoke to a writer from the magazine about her past as a child star, playing a vampire, and even the kiss she shared with Kristen Stewart in The Runaways. She said: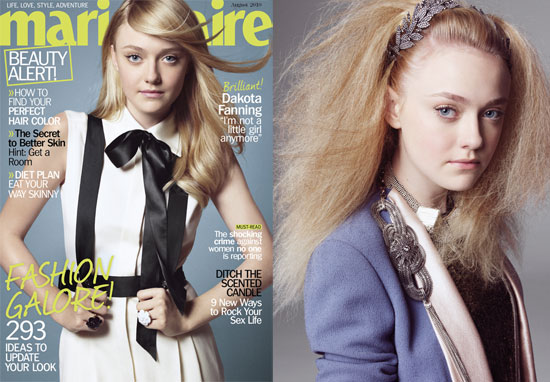 On locking lips with Kristen Stewart in The Runaways: "It's out of the way, and it was with my friend and a girl – no pressure. It was not something Cherie [Currie] and Joan [Jett] ever really spoke about, and that's how it was filmed – as not that big of a deal."
On hiding her famous baby blues in the Twilight films: "It's something that's always been there for me, that I have huge blue eyes — it's been something that people have always talked about. But I enjoyed the red. You're automatically transformed into a creature when you put those red eyes in."
On moving past her child star status: "When you start out young, people get really attached to who you are at 6 years old. I hope that The Runaways was kind of a moment to be like, 'You know, I'm not that young little girl anymore, but I'm still not all grown up, either.'"
On her future as an actress: "As you get older, there's so much more that you can do in films. I've never wanted to rush that; I've always wanted to do what's right for my age, but as you approach 18, a whole new world opens up to you as an actor, and I really look forward to that."