Damian Lewis Emmy Interview in Press Room
Damian Lewis "Was Quite Convinced" Bryan Cranston Would Beat Him For the Emmy
In one of this year's biggest Emmy surprises, Damian Lewis beat previous three-time winner Bryan Cranston in the outstanding lead actor in a drama series category for his role on Homeland. Brit Lewis stopped by the press room and admitted that he also thought Cranston was going to win, joking about how he had been catching up with Breaking Bad. He also had cracks about getting romantic with costar Claire Danes, and why so many people have embraced the freshman series Homeland.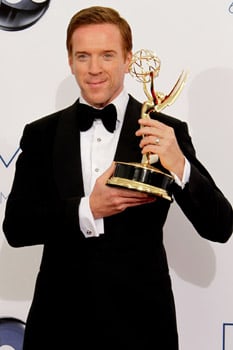 On why Homeland is so appealing: "It succeeds in being a thriller, a thrill ride, a white-knuckle ride. It gets people's pulses' racing. And in this show in particular, it's politically resonant, it's politically current, and I think that grounds it in a reality. I think people are responding to it for that reason."
On beating three-time winner Bryan Cranston: "I've just been getting to know Bryan in the circus that is the preawards merry-go-round. What a sweet, lovely, funny man. I love him already. I was quite convinced that he'd be walking up again tonight because I've also been catching up with Breaking Bad. Mostly out of politeness, I just figure I should know what my competitors have been doing. I meant what I said tonight — I don't really think you should judge art. Of course, I'm delighted to be a winner, but I've been to lots of award ceremonies where five guys get nominated and five guys walk away with a little trophy, and that would really be my preference."
On how he and winning costar Claire Danes are going to celebrate: "We're going to go away to a romantic island together, just for the weekend. When that baby's ginger, you guys are going to have a field day."
On whether shooting Homeland has changed his view of the US: "My view of America hadn't really changed. I have great friends here. I love being here. There is a particular polarization between your political landscape at the moment, and I think there's a problem socially between rich and poor. But hey, guess what, it's that way in my country, too. We're all struggling."