Dane Cook Miley Cyrus Tweet
The Funniest Celebrity Tweets of the Week
We already covered the most hilarious reactions to the government shutdown, but there's plenty more to talk about when it comes to the best of Twitter this week. In our latest collection of tweets, we've got theories about the devil, plenty of café jokes, and a new favorite: celebrities tweeting at themselves.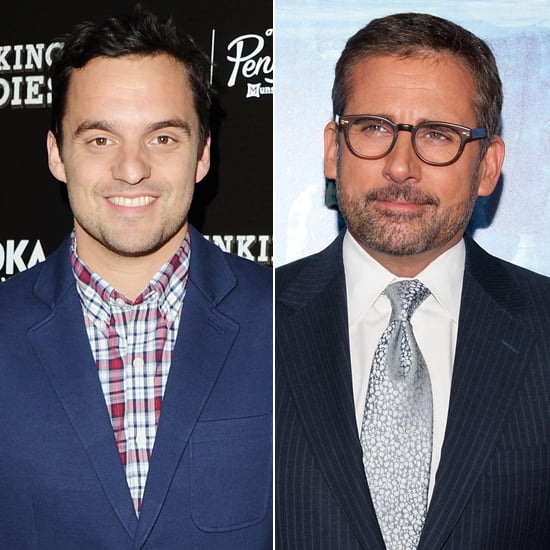 From Steve Carell quoting his daughter to Jake Johnson commenting on Bill Hader's Mandy Patinkin impersonation, read through our favorite celebrity tweets!
You know what this means? I can't wait till they call Mandy to host SNL.
Bill Hader's Mandy Patinkin is almost as good as Mandy Patinkin's Mandy Patinkin.

— jake johnson (@MrJakeJohnson) October 3, 2013


New idea: a show about kids saying the darndest things.
The other day, my wife made pot roast in a crock pot. My daughter came in and asked "Why does it smell like arm pits?"

— Steve Carell (@SteveCarell) October 3, 2013


We love when Busy Philipps has real talk with us.
The day when my wedding rings fit again, I will throw a party. #WeCantAllBePrincessKate

— Busy Philipps (@Busyphilipps25) September 28, 2013
Check out the rest of our favorite tweets after the jump!


You can rest easy, Conan! This guy seems like he's definitely not going to murder you in your sleep.
Not gonna worry about the neighbor who's marching around his back yard with a bridal veil on his rake.

— Conan O'Brien (@ConanOBrien) October 3, 2013


I think it's hard to have an air of mystery if you're Anna Kendrick.
In future, I'd like to request that friends only introduce me as their "associate" as it lends an air of mystery. #Vague

— Anna Kendrick (@AnnaKendrick47) October 3, 2013


I can't think of any way to disprove this, so it must be true.
What if Willem Dafoe IS actually the devil?

— RainnWilson (@rainnwilson) October 3, 2013

I feel like this is a really easy "Would You Rather" question, though.
Over breakfast my 5yr old daughter asked me, "When you die do you wanna be a ghost or a zombie?" so my work here is done.

— kelly oxford (@kellyoxford) October 2, 2013


Well, there goes my Halloween costume.
Girls: If you're planning on dressing as Miley for Halloween (hair in little buns, foam finger, tongue out)…….. DON'T. #OriginalityPolice

— Dane Cook (@DaneCook) October 3, 2013


There's a mental image that's burned in my brain forever.
I honestly think this government shutdown is affecting the quality of my twerking.

— Jim Gaffigan (@JimGaffigan) October 2, 2013


You guys, Lena Dunham is only one person. C'mon.
I go to France for one day and the government shuts down? It's like I have to do everything.

— Lena Dunham (@lenadunham) October 2, 2013


This one's a two-parter. Who needs friends?
i like my men like i like my pumpkin spice lattes: tall and skinny

— mae margaret whitman (@maebirdwing) October 1, 2013
@maebirdwing great Starbucks joke- everyone loves you!

— mae margaret whitman (@maebirdwing) October 1, 2013


Get it together, Julie. Get. It. Together.
OHHHHH, I get it. Central PERK.

— Julie Klausner (@julieklausner) October 3, 2013


My new favorite thing: celebrities who tweet at themselves (see: Mae Whitman tweet).
.@iamgreenfield stop surfing the net. Let get up and hit the gym. You got this man

— max greenfield (@iamgreenfield) October 3, 2013