David Arquette Talks About Brad, Jen and Angie
In these pictures David Arquette stopped by TRL to promote his new shows Dirt and In Case of Emergency. However, it was his visit to Howard Stern that is causing headlines. Even though he was there to talk about his shows Howard worked the conversation around to Jen and Brad's break-up. Of course, David has the inside scoop since they were all best friends. In the interview David swears he doesn't hold anything against Brad, and claims he never saw Jen cry through the whole thing! Here's more: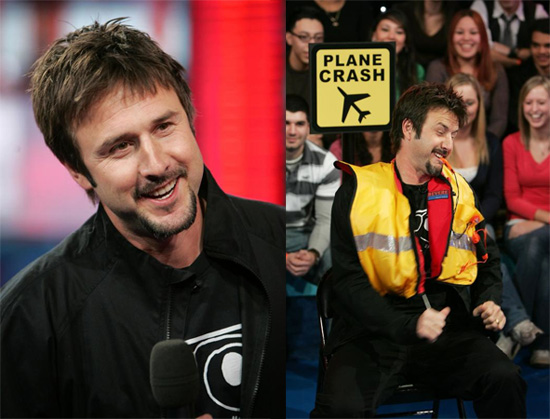 Howard: How hard it must have been for you, your wife is best friends with Jennifer Aniston, so you're in the middle of that whole thing.
David: Jennifer's great. When the marriage ended, it was sad.

Howard: Do you have to act like Brad's an ass all the time?
David: No, I love Brad, he's a great guy. He did some stuff that hurt our friend, but you know...

Howard: Do you ever see Jen cry?
David: No, no, never, not one tear shed.

Howard: How did you hear that Brad split? Did Courtney tell you?
David: Um, we knew, we all knew about it.

Howard: When did you find out he was sleeping with Angelina, did you know that?
David: That part was pretty much a surprise.

Howard: Did you give Jen advice, talk to her about her marriage?
David: In general, I think that if something's not working out between people, you just move on.

Howard: Well they were working until Angelina came along..
David: Yeah, they wouldn't have broke up if not for that. [laughs]

Howard: I don't think Jen should hate her, she should hate Brad not Angelina.
David: I don't think Jennifer hates her either, I don't think it's like that. The way they depict it is completely wrong. She's a very strong woman, she's totally solid and she's just got a great attitude.

Howard: Have you talked to Brad?
David: I spoke to him once. We didn't actually speak, I texted him, I just said congratulations on the baby and he wrote back.
Who knew Howard was so obsessed with the whole thing. As for David, he also gushed about his love for his wife and daughter. Sounds like he is a very happy man. For lots more images of David goofing it up on TRL just read more