After 20 years, David Beckham is hanging up that soccer jersey we loved to watch him take off. In his statement released earlier this month, David said, "If you had told me as a young boy I would have played for and won trophies with my boyhood club, Manchester United, proudly captained and played for my country over 100 times, and lined up for some of the biggest clubs in the world, I would have told you it was a fantasy." For his fans, David has been a dream both on and off the field. While he won't provide anymore end-of-game stripteases, that could free up his time to strip down for his underwear ads. To celebrate the official end of his career, which wrapped up today when PSG played their final game of the season, here are five reasons we love David Beckham, coming to you in GIF form.
He's Always Game to Go Shirtless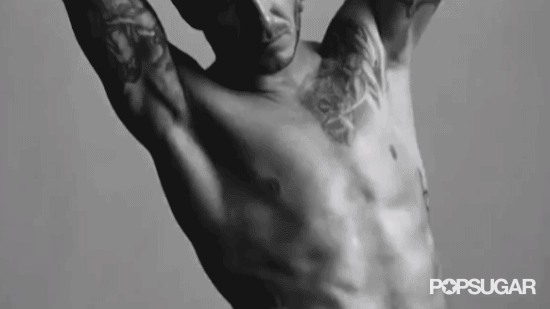 David gave us an up-close look at his lovely tattooed body during this 2013 Super Bowl ad.
Keep reading for four more GIFs!
He Looks Good Driving a Boat

David Beckham's triumphant Thames boat ride kicked off the London Games. He made sure the Olympic torch got there in one piece.
He Comes Through in the Clutch
Back in 2001, David jumped for joy after his last-minute goal that sent England to the World Cup and cemented his status as a national hero.
He Can Make Fun of Himself
In this H&M ad directed by Guy Ritchie, David made himself more comfortable.
He Even Gets Embarrassed
It doesn't matter that David Beckham is a sex symbol. He still turned a cute shade of red when the kiss cam turned to him and his wife, Victoria, on his birthday in 2012.