David Beckham in Sydney
David Dishes on the Beckham Boys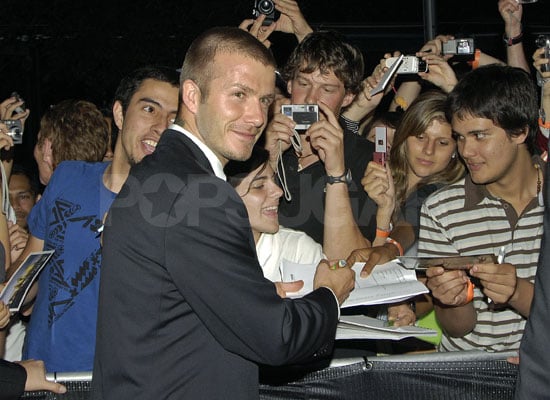 0
David Dishes on the Beckham Boys
David Beckham did his best to turn his time in Sydney into a little vacation yesterday, relaxing on a yacht and signing autographs for fans before his big game with the Galaxy. Becks looks happy to be fulfilling his duties around the world, but spending all this time away from his family gets tough. Yesterday he stopped by This Morning, an ITV talk show where he couldn't help but gush about his adorable boys. Here are highlights:
On the boys' accents:
"They sound as if they are from London and that is how I want them to sound, but they are getting little parts of an American accent."
On taking the boys to see the Spice Girls:
"Victoria says, 'All our boys know what daddy does, he plays football in front of all these people, but they have never seen what mummy used to do' and so that was one of the reasons why she wanted to do it and it will be amazing, all the boys are going to love it.
On the family's Christmas plans:
"We are going to be back in England, I love London, I love being back in England, I love being back in London, it is where I am from and where Victoria is from and Christmas wouldn't be Christmas without being back here."
As much as we love having the Beckhams here in the states, it seems as if it's never going to be a place they call home. The good news is America is rubbing off on them a little as David revealed that his son Romeo is using words like "awesome" and is the performer of the family even dubbing him the next Justin Timberlake. Cute - we can envision it now!
To see more of Becks in Sydney just