David Boreanaz's Wife: I'm Still Angry
David Boreanaz's Wife: I'm Still Angry
We're excited to post a portion of this story from People.com on Pop!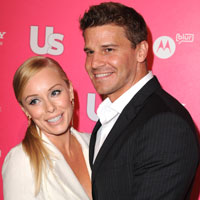 David Boreanaz's wife, Jaime Bergman, is willing to try to repair their marriage after learning that her husband of nearly nine years was unfaithful – but it's a rough road.
"I'm not saying everything's okay," says Bergman, 34. "I'm still angry. I'm still mad. I am still hurt. "
The couple, who are parents to, Jaden 8, and Bella, 8 months, have been working through their issues for the past year with the help of therapy. To read the rest of her statement, check out People.com!


Related story:
High (In)Fidelity: Famous Cheaters