David and His Boys Win Big While Foxy Posh Flies
David Beckham celebrated on the field with his sons as he helped lead the LA Galaxy to a win in the MLS Western Conference Championship on Friday night. Romeo, Cruz and Brooklyn all cheered dad on and will have the chance to do it again next weekend in the MLS Cup next Saturday in Seattle. Cruz and David were still showing off similar hairstyles, which Becks styled a little different to stop by a P.S. Arts event yesterday. While her boys were having fun in LA, Victoria Beckham was headed to London where she was spotted at the airport sporting her new wavy hairstyle and a fresh off the runway Louis Vuitton Bag with a fake foxtail. Earlier in the week she and Brooklyn visited underprivileged kids in Kentucky, where she showed off that killer smile we love the chance to see, but now it's back to business in England for Posh.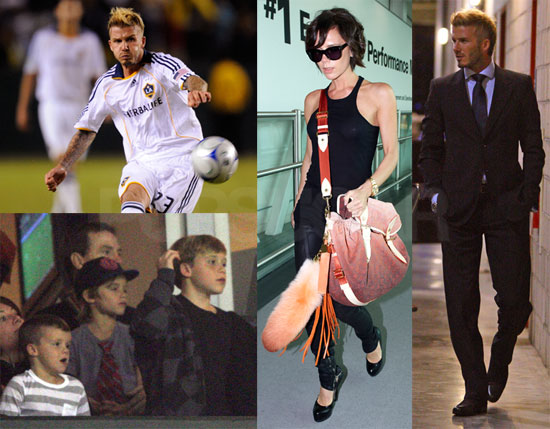 To see lots more of the Beckhams just read more.