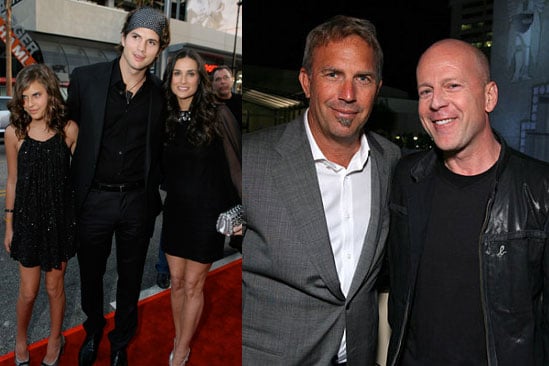 0
Demi Talks Possibility Of Another Mr. Kutcher
Demi Moore got plenty of support from her family at the premiere of her new movie, Mr. Brooks. Bruce continued to prove how close he and Demi still are, although he walked the red carpet all by himself. Demi looked amazing as usual, and was joined by Tallulah and Ashton - who gets points for losing the icky beard but loses them for his bizarre choice of headgear. This couple is always dodging pregnancy rumor and now Demi admits that she'd like to have a boy, saying, "I wouldn't mind a little balance, you know balancing out that estrogen."
Lots more pics including Dane Cook, Danielle Panabaker and Marg Helgenberger, so just
Images include Demi Moore, Ashton Kutcher, Bruce Willis, Dane Cook, Kevin Costner, Tallulah Belle Willis, Rex Lee, Danielle Panabaker, Macy Gray, Marg Helgenberger.