You aren't experiencing deja vu. If you feel like you've seen this premiere before, it's because you have. It had its US premiere last month in NY. But this week it premiered overseas in France. Meanwhile the film sits comfortably at number three at the box office. In the film Denzel travels back in time to investigate an explosion, but the actor says director Tony Scott based the film on reality. Here's more: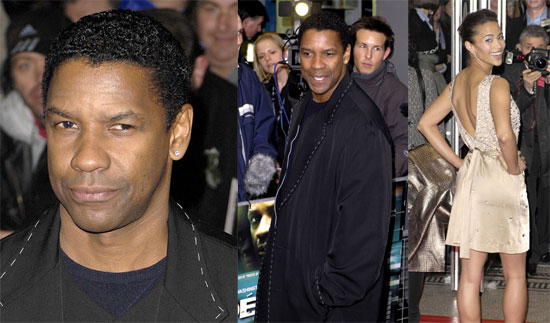 He said he didn't want to make a science fiction movie, but a science fact movie," Washington told The Early Show co-anchor Julie Chen. "He did a lot of research about surveillance and what they are capable of and found out a lot of information about the whole investigation in London and those bombings and how they track all that stuff down. So the film was steeped in that reality."

[Denzel's character] travels back in time to save the woman and ends up falling in love with her.

"I fall in love with a dead woman," Washington said. "That's passion. That's love. That's commitment."
By the looks of Paula Patton who plays his love interest, we don't blame him. For more pics including Denzel, Paula, Tony Scott, and Jerry Bruckheimer just read more