Denzel Washingon Interview at Oscars Luncheon
Denzel Washington Shares His Fondest Oscar Memory at Luncheon
Flight star Denzel Washington was celebrating his sixth Academy Award nomination at today's Oscars Luncheon, and the actor graciously answered a couple questions for the press. The best part of Washington's interview, though, was when he shared his favorite Oscar memory from years past, revealing how supportive his daughter is, even when she was too little to get his opponents' names correct.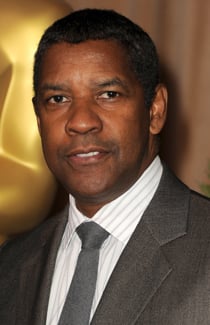 On whether any real-life pilots have had any strong reactions to his portrayal: "Nothing negative . . . or too positive. I talked to a couple of pilots I fly with pretty regularly. They know it's acting."
On his fondest memory of being nominated for an Oscar: "My daughter drew a picture of Oscar, and it said, "You're my Oscar anyway. Plus, I don't like Kevin Space."
On fellow nominee Quvenzhané Wallis: "Was she here? I gotta meet her! Maybe if I'm nice to her, she'll put me in one of her movies."