Designer of the Day: Sienna Miller
Another day, another actress starts her own clothing line. Only this time the actress is Sienna Miller and she's not just putting her name on a brand someone else is designing. She's going into business with her sister Savannah who has a degree in design from St Martins in London. And seeing that Sienna is as famous for her style as she is for her acting (or dating Jude Law for that matter), her label Twenty8Twelve is bound to be a success. The name is based on her birthday. Here's more: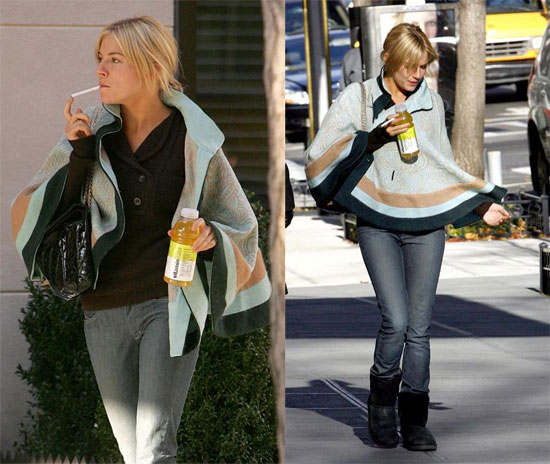 The diffusion-priced line, which will launch for Fall 2007, is intended as a rebuke to the dumbed-down state of the celebrity/tabloid fashion cycle. "Neither of us has stylists," declared Sienna. "There's such a lack of individuality now—what we're trying to say is, do it for yourself!" And who can blame the girl for wanting to seize the trend controls? "I wear something, it's in Heat magazine, then everywhere the next week!" said Miller. "I'm like, wait—I bought that in a market in Paris!"

The Millers have worked out their own process of remote cybersibling design: "We Web-chat everyday," said Sienna. "If I find something in a thrift store in some weird town that I'm shooting in, I show it to Savannah on the Webcam. I can say stupid words to her about clothes that other people wouldn't understand. She gets it. We've worked really hard. This isn't about just lending a name to something and not really being involved." Savannah, who has been freelancing for Alexander McQueen, Matthew Williamson, and Betty Jackson, added, "It's really about how we dress. Sienna has incredible intuition. Like, I saw her in a big Versace chain belt once, and said, 'What's that?' Then chains were everywhere."
There's no question that people love Sienna's style, but I'm doubting she single-handedly brought back the chain. Sometimes I don't know what that girl is thinking. Especially in this pic where she is drinking vitamin water while smoking a cigarette! Does she think the two will cancel each other out? For more pics of Sienna on the streets of NY just read more