Diane Goes For the Gold With a Little Help From Karl
Diane Kruger was back in Berlin over the weekend to attend Saturday's Goldene Kamera Awards. The red carpet style star didn't disappoint in her latest gorgeous gown, this time opting to wear a Valentino number that another attendee, the model Barbara Meier, also wore. Kruger also kept warm with a faux fur coat. Karl Lagerfeld didn't seem to mind that Diane wasn't in Chanel, as he took the stage to present her with the Best International Actress statue for her work in Inglourious Basterds. Joining Diane for the show were Danny DeVito and Richard Gere, who added a little more Hollywood sparkle to the German event.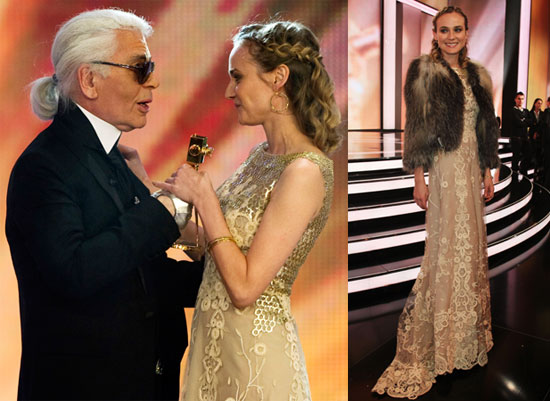 More photos of Diane at the award show in Berlin, just
.