Diddy is currently shooting a new film in Toronto called "A Raisin in the Sun" but the more exciting news is that he is getting ready to be a father of twins. Diddy loves a good party so it was no surprise that he hosted a "Little Miss Diddy's' Pretty in Pink" baby shower for longtime girlfriend Kim Porter in NYC last weekend. There was no shortage of generosity from Diddy's famous friends, as the twins received extravagant gifts from LL Cool J, Denzel Washington, and Jay-Z. People Reports: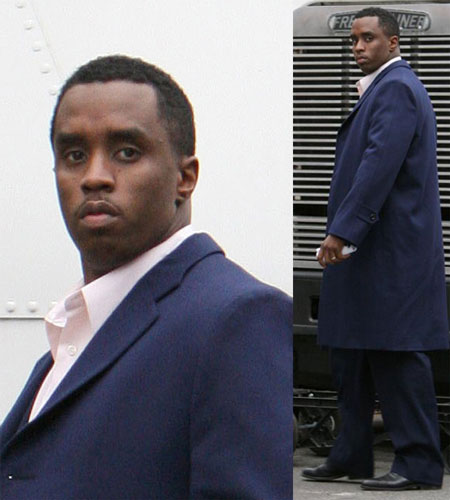 One thing still on Diddy and Porter's baby registry: an $88,000 R-class Mercedes Benz. It's "for the twins to ride in," Shalena Smith of Ga Ga Designs tells PEOPLE. "But I showed (Kim) a $17,000 diamond-encrusted pacifier and she laughed because she's down to earth. They are realistic people. Everything (on the registry) wasn't just the bling bling."

Porter, who is due in the middle of December, teared up when Diddy professed his love for her in front of their friends and family. "I just thank God that I have a woman and a friend who has been down with me with my faults and my flaws and my B.S. and all that stuff," he said. "She's my best friend. I love her with all my heart."
Sounds like these girls have already got it made! I wonder if he'll let them call him Puff Daddy.
More pics of Diddy so read more