Dina Still Clinging to Lindsay's Fame
Dina Still Clinging to Lindsay's Fame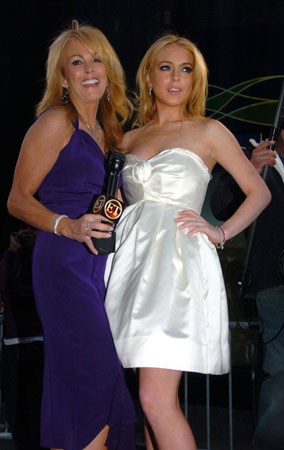 Dina Lohan graced the red carpet of Georgia Rule last night, but not just as a guest of her daughter. She was there working as a special correspondent for Entertainment Tonight, despite little experience in the field. Some people are rightfully skeptical as to why she got the gig. According to Page Six, "Dina wants to be a TV star. But 'ET' may just be hiring her so they can get the Lindsay exclusive." You think?
Dina has used Lindsay as a way to get herself press more than once before. We all remember that ridiculous Harper's Bazaar interview and champagne wielding photoshoot she so tactfully posed for soon after her daughter left rehab. Even better, Lindsay was apparently less-than-happy when her mom flew cross-country with an ET crew to interview her while she was still living at Wonderland.
The latest rumor is that Dina, who calls herself the White Oprah, is vying to replace Rosie on The View. We doubt that will ever happen though. Judging from the way that Lindsay's life is going these days, especially in light of the recent coke stories, it sounds like Dina should focus a lot less on her flailing career and a lot more on being a good mother to her four children.