Page Six is reporting the latest celebrity split of 2007 - Marilyn Manson and Dita Von Teese. Apparently, the beautiful bombshell is about to deliver divorce papers to the rocker due to "irreconcilable differences." We normally would not care much about this couple, but we have to admit she has grown on us. The sexy model just reminds us of an old fashion Hollywood glam with an updated sex appeal. Here's more: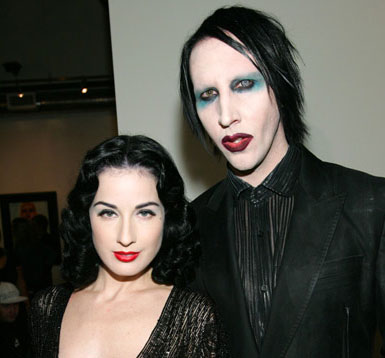 Sources say the raven-haired bombshell filed for the split right before Christmas, but Manson has been unaware of it because she couldn't get in touch with him.

"He's not been responsive," a friend said. "She loved him so much, but he has too many demons. He can't even communicate with her at this point. She tried to tell him she was divorcing him, but she can't even get him on the phone. She moved out of the house and he hasn't even noticed."

Friends say Manson had been boozing heavily last year, much to Von Teese's dismay, but she'd desperately tried to hold on. "She really tried to make this work," the friend said.
I don't know much about him but we bet she can do better.