Divergent Interview With Veronica Roth
Who Split Their Pants on the Set of Divergent?
What do Divergent author Veronica Roth and the adaptation's cast members Ansel Elgort and Christian Madsen have in common? They're all really psyched about seeing the Divergent movie. The author sat down for a Q&A in NYC this week and surprised the screaming audience by bringing out Elgort, who plays Caleb, and Madsen, who plays Al. (See Elgort's adorable Instagram below.) Roth also discussed the last book of her popular series, Allegiant, which hit shelves this week.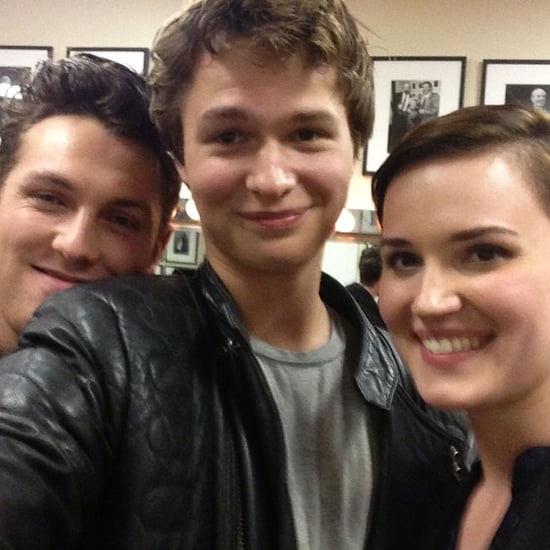 Here are the highlights of what we learned from the young author — 25 years old and already a bestselling author — and the stars of Divergent!
They each have a favorite Divergent scene. Roth's favorite part of the film is the scene where Tris (Shailene Woodley) and Four (Theo James) climb the Ferris wheel: "They're actually climbing the actual Ferris wheel that I was actually thinking of when I actually wrote it." Madsen prefers the first time we see the dining hall, while Elgort's favorite is a scene starring himself. The part in which he sits down with Tris the night before their selection ceremony is one he'll always remember: "It was an important scene for me."
Madsen split his pants while filming. In one stunt-filled scene, Madsen realized that if he didn't brace himself properly for a fall, his tight pants were going to split. Try as he might to protect his seams, as soon as he got up, his pants split. Hopefully that take will be on the DVD.
Roth won't tell us how hot she thinks Theo James is. When an audience member asked how hot James (who plays Four) is, Roth laughed, but diplomatically responded, "I'm not going to answer that."
Roth got starstruck by a Divergent cast member. Kate Winslet plays the steely Jeanine Matthews in the movie, and Roth said the first time she met her on the set, she managed to be very cordial until Winslet was out of sight, "Then I sat down and started laughing hysterically."
Elgort had a tough time with the stunts. A scene in which Caleb hops onto a train with Tris wasn't as seamless to film as it may come off in the film's final cut. Turns out running up to and jumping on a train isn't easy: Elgort admitted, "It's really hard!"
Roth always knew how the series would end. The author said the end of the series was "the only thing that has remained consistent" throughout her writing process. Only "three or four" people knew how she wanted to end Allegiant, including her agent.