Do You Think Kristen Stewart Will Pull Off the Role of Legendary Joan Jett?
Kristen Stewart is off in London attending Fashion Week, being celebrated for her style, and dodging questions about her relationship with Robert Pattinson, but back home promotion for her film The Runaways continues. Joan Jett, who Kristen plays in the movie, opened up to Interview Magazine about the project and revealed a little about their relationship. Joan said: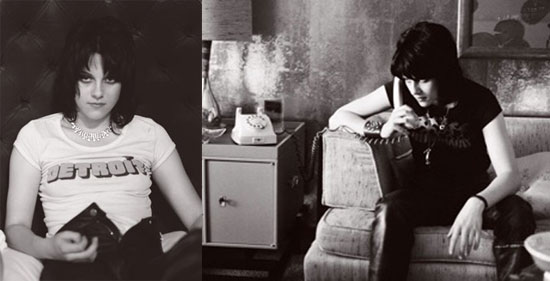 "I found us to be really, scarily similar, just in our physicality, the way we move through space. . . she is so authentic. The thing that came through to me was that it was important to her to capture it. She really wanted to nail it. So I gave her all The Runaways music that I could find; I gave her tapes of me talking. . . When we were together prior to the start of filming, she was staring at me the whole time. And I was fine with it because I knew she was watching my posture, my mannerisms, everything I did, the way I hold my hands, just everything. And she really soaked it in."
Kristen's had a diverse range of parts, but playing a living legend can be intimidating territory. Joan seems to be confident in Kristen's performance, but tell us what you think — will Kristen pull off the role of Joan Jett?