Do You think Sex and the City Has Another Story Left?
Do You Think Sex and the City Has One More Story Left to Tell?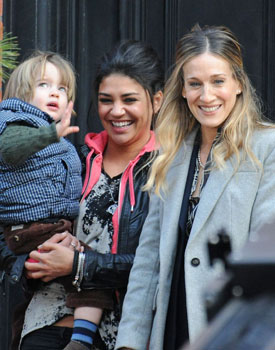 Sarah Jessica Parker and Jessica Szohr got silly shooting I Don't Know How She Does It yesterday in NYC with a young costar. SJP has enjoyed a steady stream of roles since making Sex and the City's Carrie Bradshaw an icon, but she said in a new interview that she'd be on board for a third movie in the series. Kristin Davis told us she thought another was unlikely, but SJP isn't ruling it out. She said:
"I would go back. I think there's one more story to tell. I know there is. I'd definitely tell that [third] story, and I know Michael [Patrick King, writer and director] would do it right. But maybe not now. Maybe in five years, you know?"
The actress also expressed reservations about a rumored prequel that had Blake Lively linked to the role of young Carrie. Many of you wouldn't be interested in a SATC film without the original cast, but tell us — do you think Sex and the City has one more story left to tell?