Dr. McDreamy vs. Dr. Burke
As if Grey's Anatomy doesn't have enough drama, Patrick Dempsey and Isaiah Washington aka Dr. McDreamy and Dr. Burke added a little real-life drama to the mix this week. The two got into it on-set over filming issues. Do they really need any little PR stunts like this for ratings? Isn't the show already doing really well? Here's more: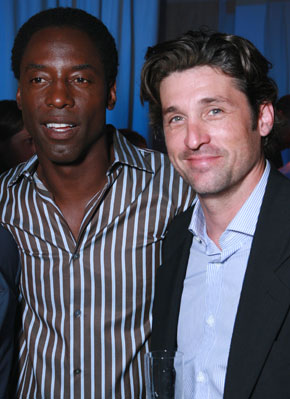 According to The Enquirer's source, the unscripted drama played out like this:

"What are we waiting on?" said Isaiah.

"Not me," said Patrick. "I'm always ready."

"At that point," said the source, "Isaiah said something mean to T.R. Knight" (who plays mild-mannered Dr. George O'Malley).

"That's when Patrick told Isaiah, 'Pick on somebody your own size.'

"Well, that did it. Isaiah became enraged and grabbed Patrick by the throat and shoved him back a few feet.

"Dr. McDreamy [Dempsey's nickname] almost landed in McDreamland."

When Knight demanded that the pair break it up, the source says, "Isaiah called him a bitch. Isaiah stormed off to his trailer to cool off, while Patrick and T.R. stood there in disbelief.
I love that Patrick was sticking up for George but unfortunately we won't get to see any of this on Thursday's episode. To see how the rest of the drama went down, just read more
"The director and producers got involved, and a meeting was organized with the network execs."

Washington came back to the set, and the actors finished their scene, but feelings are still said to be raw, with neither actor offering an apology.

"Isaiah is a theater-trained actor who can't stand the whole McDreamy magazine-cover-boy furor over Patrick," says the source.

Our source denied Washington choked Dempsey, but confirmed, "Isaiah said some disgusting things. He was in Patrick's face. I think Isaiah has issues. There's an underlying jealousy. But it's not Patrick's fault. They've put a lot of pressure on him by making him the face of the show. Patrick never asked for it, but he promotes the show whole-heartedly."

Enquirer editor David Perel told us "the sourcing on this story is rock-solid."

Dempsey's spokeswoman said, "There was an argument on set. In any close-knit family, sometimes people argue. But everybody made up and went back to work."