Drew Barrymore on the Cover of PARADE Magazine
Drew Leads Her Own Parade to Happiness
Drew Barrymore is on the cover of this week's Parade magazine, looking adorable in her brightly colored outfits. While Sunday's Emmy Awards were all about Grey Gardens, Drew sat down with the magazine to discuss her upcoming directorial debut, Whip It! She also opened up about her views on love, growing up in Hollywood, and her relationship with her mother — a theme that's explored in depth through her film. Here's more: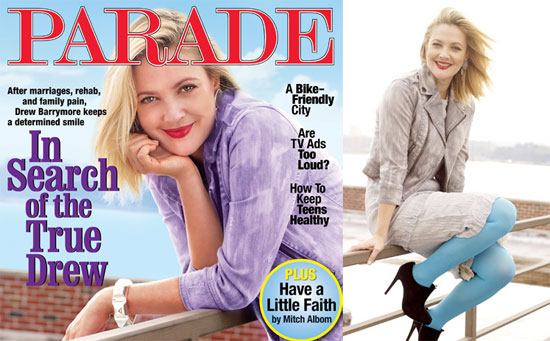 What she learned from growing up in Hollywood: "I've stopped believing in happy endings. I've started believing in good days. At the end of my movie, there's honesty. There's truth. There's peace. What tomorrow will bring is still in question. There is a joy that's earned by failure or triumph. All those things add up to teach us, if we are open to it."
Where her relationship stands with her mother: "I believe she will see the film [Whip It]. I believe she does feel pride in me. I used to pull a lot emotionally from all the stuff with my family, but I did not do this movie to cleanse myself of the mother/daughter debacle that happened in my life. I have been much more objective about my childhood and my relationship with my mother in these last few years."
Her outlook on happiness: "It feels as if I'm willing myself to be happy. I do feel as if I am thrusting myself forward all the time. Nancy, who runs my production company and is my favorite person I've met in my life so far, had on her refrigerator the sign 'HAPPINESS IS A CHOICE.' When I first saw it, I thought, 'That is so simple and yet complex and wise."