Dustin Hoffman Quotes
Dustin Hoffman's Viral Video — and 10 More Reasons to Love Him
This week, a Dustin Hoffman interview clip from the AFI archives went viral, highlighting his insightful comments about women's beauty. Discussing his role in Tootsie, he gets choked up, saying, "I would never talk to that character because she doesn't fulfill — physically — the demands that we're brought up to think women have to have in order for us to ask them out. There's too many interesting women I have — I have not had the experience to know in this life because I have been brainwashed."
His wise remarks about cultural beauty standards aren't the only reason to love him, though. Through the years, Dustin has shared thoughtful, funny, and refreshingly open comments about everything from Oscar night pranks to life's most precious moments. Take a look at 10 more reasons to appreciate Dustin Hoffman:
He Has a Sense of Humor
In 2012, Dustin told Maxim how he felt about Jason Bateman's kissing skills based on their courtside kiss at a Lakers game:
"Oh, wonderful! But what I'll always take with me is that after I parted from dear Jason's lips, Adam Sandler was right there grinning from ear to ear, waiting to fist-bump me."
He's Built Lasting Hollywood Friendships
Dustin told NPR in 2013 about getting choked up at the 2012 Kennedy Center Honors:
"What hit me — and it did hit me very hard — [was] De Niro is announced, he comes out on the stage, and he starts talking about me and I realized, 'Oh, I guess I'm first up.' But suddenly, in this speech he gave, what he said about me, he had never said. And it just got me, his feelings toward me as an actor. And I called him the next day and I told him over the phone how deeply it hit me, and he said to me mid-conversation, 'Dustin, stop,' he says, 'you're making me cry.' And even talking about it now, that was the highest moment for me, with all due respect to the president and the first lady."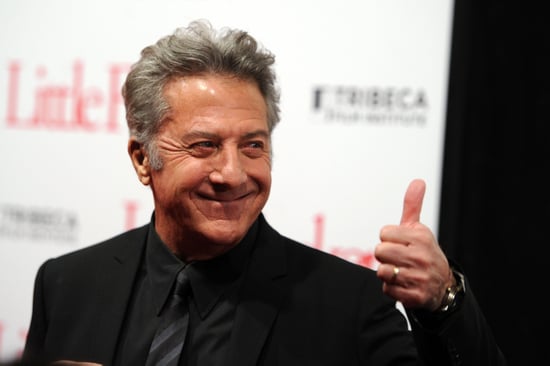 He Doesn't Care What People Think
In 2008, Dustin told Time Out London about becoming more carefree:
"A yellow tie and orange shirt and green pants. Nobody dresses like that until they're over 70. I think they wake up one morning and say, 'Who gives a f***? I don't care what people think.' You spend so much of your life basing yourself on what you think other people think of you. Then you realize that maybe one of the purposes of life is not to care."
He Acts For the Love of It
Dustin told The Guardian in 2012 that he loves the work of acting:
"I wish we never had to let the film out. I'd love acting if it was just something you went to work at every day. The same with plays: rehearsals are the best fun in the world."
He Isn't Afraid to Open Up
Dustin shared a bit of wisdom during a British GQ interview in 2013:
"What you feel about yourself for the first few years of your life never disappears, particularly in the formative years. You come to terms with it in a certain way, but it's painful. And you can work through that pain. But I think you keep vestiges of all your pain."
He Doesn't Take Himself Too Seriously
Dustin told Maxim in 2012 that he once wanted to joke around at the Academy Awards:
"It's boring! It lasts forever, and don't think you're seeing spontaneous behavior. You see couples who are suddenly smooching, and, well, there's a guy sitting on the ground with the camera at their knees. There was one particular time I knew I wasn't going to win, and when they'd train the camera on me as one of the losers, I wanted to be able to rip open my tuxedo shirt and just have stenciled on my chest, oh, s***. But my wife wouldn't let me do it."
Read on for more Dustin Hoffman quotes.
He Isn't Afraid to Look Inward
Bringing his sense of humor to the table, Dustin told The Guardian in 2012 that he's been in therapy for several years:
"You know, I'd like to be in therapy even after I die."
He's a Family Man
In 2013, Dustin told British GQ that the love of your parents is most important:
"There's nothing more important to a human being than their parents' love. And many times you wind up giving them love in order to receive their love, a version of yourself that isn't you because you think that's what they want. And I think that's what I would have tried to resolve much earlier. Truthfully, I'm at a better point now than I have ever been. I think of my life as being Swiss cheese. And it's filled with holes. And I have fewer holes now than I've ever had."
He's Not One to Get Bored
In 2007, Dustin told Esquire that there's no excuse for boredom:
"I don't understand boredom. All you have to do is walk around the house as if you were blind. How could you be bored? Depressed, yes. That's a different ball game. I know depression. I know every degree of it. But not boredom."
He's a Sweet Grandpa
Dustin told Esquire in 2007 that he appreciates kids' sense of wonder:
"I like to mimic my grandkids. I'm trying to understand the intensity of fixation on a leaf. Kids don't need anything else in their life."