Easy A's Emma Stone Reacts to Her Golden Globe Nomination Alongside Angelina Jolie
W Cover Girl Emma Stone Is Shocked to Be Nominated For a Golden Globe Along With Angelina Jolie
Emma Stone struck a pose for the January 2011 cover of W, and inside the magazine, she joined other hot young stars like Garrett Hedlund to chat all about their new-found fame. As exciting as her appearance in the issue is, Emma received even better news this morning when she scored a Golden Globe nomination for her role in Easy A. She's up for Best Actress in a Musical or Comedy against Angelina Jolie, and Emma finds that to be the most exciting aspect of all. In reaction to her recognition, Emma said: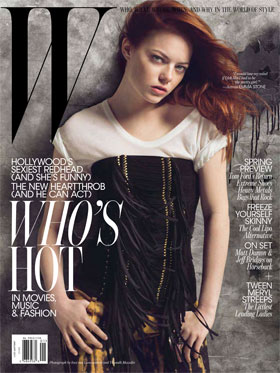 On being nominated along with Angelina: "Let's just be honest, that's pretty surreal. I don't know what I'm going to do when I see her in person. I'm going to freak out when I see anybody in person."
On her surprise: "It's insane! I'm still coming to realization that I got nominated. I'm in the state of 'Oh, My God!' My mom and dad called and they were on speakerphone and said, 'We're proud of you,' and that was the best. I teared up."
On her Golden Globes date: "My mom. I'm pretty excited about that. I would really like to bring my mom. She doesn't know yet."