Ed Westwick Interview on Romeo & Juliet and Gossip Girl
Ed Westwick on Life After Gossip Girl and Taking On Tybalt in Romeo and Juliet
Ed Westwick plays Tybalt in Downton Abbey creator Julian Fellowes's upcoming Romeo and Juliet, which holds fast to the time period and romanticism of the Shakespeare classic. We caught up with the actor to talk about tackling The Bard's beloved play and the film's wise-beyond-her-years Juliet, Hailee Steinfeld. Westwick also reflected on why he left NYC in his rearview after Gossip Girl came to a close and how he's working to transcend Chuck Bass in the next chapter of his career. Romeo and Juliet hits theaters on Oct. 11.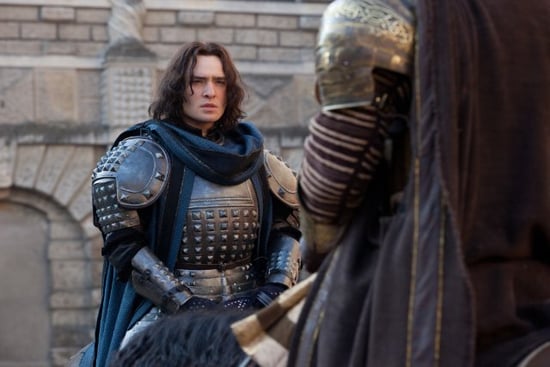 POPSUGAR: Tybalt has always seemed to me to be maybe the most interesting character in Romeo and Juliet. What attracted you to this specific role?
Ed Westwick: Well, first of all, we share something there, because I agree. I was always intrigued with the character ever since I was young, and when I heard the project was coming around, I thought, 'I have to do this. I have to give it my governance.' So that was it. I wanted to go on my own journey with the character but try to be something different.
PS: There's sword fighting required for this part, of course, so that had to have been a fun element to pursue. Did you have any related experience beforehand?
EW: No, I didn't. We worked with [an expert] in Italy — he was brilliant — and that sort of scene choreography, it was so much fun. I really enjoyed watching it in the film. I think it came off really well.
PS: What has life after Gossip Girl given you in terms of freedom to pursue different things in your life and your career? A TV show schedule is so grueling.
EW: Yeah, I mean especially with the character that I played. I suppose for a lot of people, they think of me being that role, and I think one of the challenges is to show people I'm not a one-trick pony. I'm an actor, and that was one character that I designed, and what I want to do now is expand on that and be involved in different projects that I'm passionate about and that I can be inspired by and work with people who are inspiring in themselves. Just enjoy the different things that are out there, hopefully.
PS: And have you stayed in New York, or did you decide to leave once that chapter was done?
EW: I decided to leave. I felt like I experienced New York in a very specific way, and I was ready for a fresh break and a change elsewhere.
For more from our conversation with Westwick, just read on.
PS: Julian Fellowes told me he wanted to make this version classical, because other takes on this story for our generation all seemed to take place in a "skating rink or underground garage." I assume in some ways he was referring to the Claire Danes and Leonardo DiCaprio film; do you have memories of seeing that at a young age?
EW: Of course. It's an iconic version, that one, you know? Very, very unique. The one thing I take from it is The Cardigans' song "Lovefool" — that was a great touch. I love that version, and of course our version goes way back to the traditional version. They're two very different things, but the important thing to remember here, and the important thing, I feel, is that every generation deserves to hear this story. I think we're delivering one that everyone can enjoy.
PS: Any chance now we may see you on Downton in the future, having worked with Julian?
EW: [Laughs] I don't think so. I have a lot of friends who are huge fans of it, and I think Julian's done a wonderful job with that, and I look forward to hearing more about it along the line.
PS: In this film, many of the actors are very young, as the characters in the original play were. Hailee is so accomplished for her age — just 16 years old. What impressed you about her take on Juliet?
EW: Absolutely. I mean, Hailee's an amazing talent, and I think, first of all, her command of the English accent was superb, and also for her to really put the essence of Juliet and deal with what is such beautiful and difficult language was remarkable. She's an incredible young lady, and it was an honor to be working with her.
PS: Can you tell me about some of the other movies that you have coming up, like Kitchen Sink?
EW: It's a wonderfully ridiculous comedy. It stars Nicholas Braun, Mackenzie Davis, and Vanessa Hudgens. It's so different from anything I've done before and will be a really great one next Halloween for everyone to go and enjoy.
PS: That sounds like it will be an interesting role for you, being very comedic.
EW: My character, he's not as comedic as some of the other characters, but I like to think I put a comedic twist on it and poked fun at the genre, so to speak, which the entire story does. It's different for me, and I just wrapped yesterday on the film, so I'm very, very excited.
PS: What do you hope young people who see Romeo and Juliet will take away from it? It's a story that resonates and has for hundreds and hundreds of years.
EW: What I want them to take from it is an understanding that they've experienced one of the greatest stories ever, by one of the, or the, single greatest playwright of all time. It's a story which, as you said, resonates, and I think everyone has to go through their own unique experience with the film. I'm proud of what we did.
PS: On a sillier note, when I spoke with Douglas Booth [who plays Romeo], he said the costumes for this film were a bit constricting. He mentioned that there were several times during some of the more action-heavy scenes, he had to lay down on set and have the crotch of his pants resewn. Did you run into any similar wardrobing issues?
EW: I didn't have to have the crotch of my pants resewn, but no, I didn't really go through too many costume changes, you know? It felt like it was a great costume to wear because it allowed you to fully embrace the character and the atmosphere of the story.
PS: And did you actually grow your hair out for the role?
EW: No — that was a wig!
Source: R & J Releasing