Elin Nordegren Speaks Out For The First Time About Tiger, Saying She "Never Suspected" and is "Stronger Than Ever" 2010-08-25 07:18:31
Elin Nordegren Speaks Out For the First Time About Tiger, Saying She "Never Suspected" and Is "Stronger Than Ever"
Tiger Woods and Elin Nordegren's divorce was finalized this week, just as her first ever interview since the scandal was ready to hit the newsstands. Elin spoke at length to People in what she says could be her only sit-down talk to discuss the end of her marriage. She apparently approached the magazine about doing the cover story and the author went on The Today Show this morning to share about the experience and Elin's amazingly strong attitude in the wake of her heartbreak. Elin seems resolved, committed to her family, and has "watched not one minute of golf" this year. Here's a few quotes from the issue, which is out this week: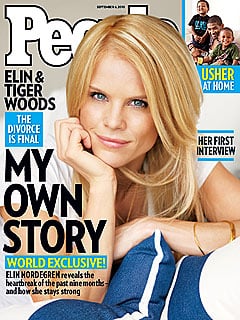 On the whole experience: "I have been through the stages of disbelief and shock, to anger and ultimately grief over the loss of the family I so badly wanted for my children . . . I also feel stronger than I ever have. I have confidence in my beliefs, my decisions and myself."
On knowing what Tiger was doing: "I'm so embarrassed that I never suspected — not a one. For the past 3 1/2 years, when all this was going on, I was home a lot more with pregnancies, then the children and my school."
On the future: "My immediate plan is for the kids and me to continue to adjust to our new situation. I am going to keep taking classes [toward a degree in psychology], but my main focus is to try to give myself time to heal."
On forgiving Tiger: "Forgiveness takes time. It is the last step of the grieving process."