Elizabeth Banks Tweets About Sharknado
Our Favorite Funny-Lady Tweets of the Week
For this week's edition of our favorite funny-lady tweets, Elizabeth Banks commented on the Sharknado phenomenon, while Kristen Bell shared a theory about her dog. Also, Busy Philipps posted another zinger in relation to her little baby, and Mindy Kaling freaked out about animals in the Arctic. Read the best and most hilarious tweets of the week from our favorite funny girls below!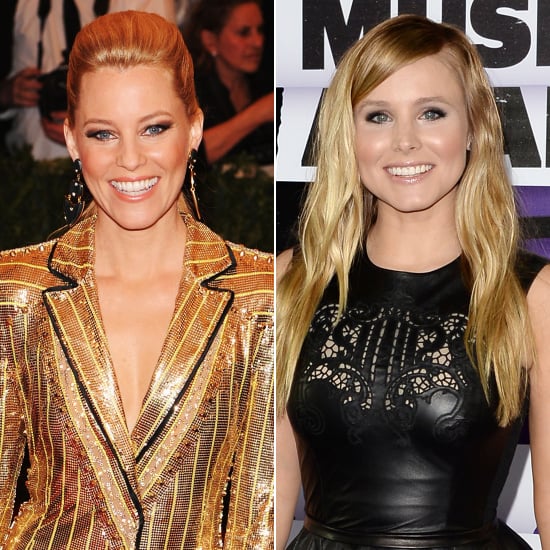 We'd be just as outraged if we were Elizabeth Banks.
How am I only just now hearing about SHARKNADO?

— Elizabeth Banks (@ElizabethBanks) July 11, 2013


Does this mean dogs can read minds too?!
I am 99% sure my dog can read lips.

— Kristen Bell (@IMKristenBell) July 8, 2013


Busy Philipps: keepin' it real and not being sorry about it.
It's weird people think my kids will be in therapy because of their names. Guys, my kids will be therapy for LOTS of reasons, I'm sure.

— Busy Philipps (@Busyphilipps25) July 11, 2013
Check out the rest of our funny-lady tweets when you read on.


Looks like someone has all their priorities in order.
No more margaritas for me. It's officially time to switch to my summer drink! Frozen margaritas.

— Ellen DeGeneres (@TheEllenShow) July 8, 2013


SO weird, since penguins and polar bears attend so many of the same social functions!
So tonight I learned polar bears and penguins HAVE NEVER INTERACTED

— Mindy Kaling (@mindykaling) July 7, 2013


Comedy writer Megan Amram has the best joke of the week. PERIOD.
PMS should be called "ovary-acting"

— Megan Amram (@meganamram) July 11, 2013


Kat Dennings has witnessed the darkest side of humanity.
People steal other people's 20% off Bed Bath and Beyond coupons right out of their mailboxes and that's the kind of world we live in

— Kat Dennings (@OfficialKat) July 11, 2013


Phew! Close call! Now no one will notice!
That zit was really bothering me. Good thing I turned it into a hideous wound.

— Diablo Cody (@diablocody) July 11, 2013


We're sure that's not a moment where comedic author Kelly Oxford would want company.
I never feel more alone than when I'm on a toilet and realize there is no toilet paper.

— kelly oxford (@kellyoxford) July 11, 2013


If Chrissy Teigen dies in a horrible plane crash — knock on wood — we'll know who to blame.
You bring your own pillow from home and we're supposed to trust you to open the emergency exit oh god

— christine teigen (@chrissyteigen) July 11, 2013


Well, Tarzan's parents thought it took a band of gorillas.
Wait- does anyone think it DOESN'T take a village?

— Sarah Silverman (@SarahKSilverman) July 11, 2013


The eighth-grade version of writer Tavi Gevinson really knows what's up.
can't fall asleep, too riveted by 8th grade diary: "He cares about feminism and has read Middlesex." my self-esteem doesn't know what to do

— Tavi Gevinson (@tavitulle) July 11, 2013


Most subtle escape plan ever.
Is anyone else alarmed that the witness stand in the Zimmerman trial is also an elevator?

— Kristen Schaal (@kristenschaaled) July 11, 2013


Mae Whitman is preachin' to the choir.
I was not in this is the end but I wish I was I was :/ good night

— mae whitman (@maebirdwing) July 11, 2013


Wait, how did comedian Julie Klausner know what my favorite beauty look is?!
Ladies! The hottest new hair and makeup trend for the summer is "I'm sorry. I can't."

— Julie Klausner (@julieklausner) July 9, 2013


Does anyone else think the NSA probably enjoys listening in on Lena Dunham?
My cab driver told me I had a "beautiful spirit" then overheard me on the phone shrieking "her baby got poked by a dick?!" and grew cold.

— Lena Dunham (@lenadunham) July 9, 2013