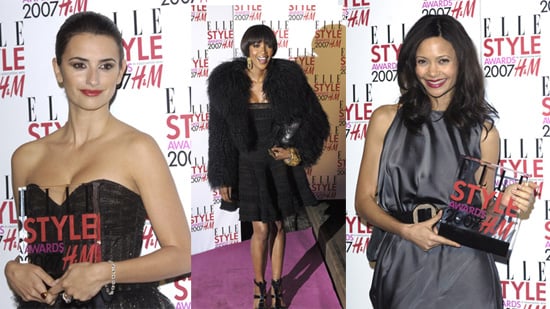 It really is award season when among the music and movie awards we can find time to recognize the fashionable ones as well. Last night in London, the Elle Style Awards took place and gave Madonna the top honor, the Style Icon Award (however she seems to be MIA from the event which is weird since it was co-hosted by her friends, H&M, hmmm). Pretty Penelope was also on hand to pick up the award for Best Film, Volver. Kate Moss was busy so Naomi Campbell scored the award for Best Model. She even had some thoughts to share on all the hype surrounding super skinny models. Here's more:
"You can't blame the industry for a psychological disease.
"It is a disease, like alcohol or drugs... and the industry is not to blame."

Naomi gave props to her modelling agency, IMG, for issuing guidelines to make sure models were well fed at the shows... She also praised the ban of girls under 16 from the catwalks in Milan.

When asked to name her own style icon, she chose her best friend and fellow model Kate Moss. "It's always Kate. I love my Kate," gushed Naomi.
Love that Naomi gave props to her friend Kate. I can also understand why she wants those under 16 to stay home. They are her competition after all - not that she can't land a job. She has been looking amazing these days with her new hairdo. To see who else won a Style Award, and for many more pics including Stella McCartney, Kelly Osbourne and more just
Pictures include: Penelope Cruz, Thandie Newton, Naomi Campbell, Kelly Osbourne, JC Chasez, Kimberly Stewart, Stella McCartney
Style icon: Madonna.
Best actor: Jude Law.
Best actress: Thandie Newton.
Best British music act: Amy Winehouse.
Best British band: Razorlight.
Best film: Volver.
Best TV show: Ugly Betty.
Best model: Naomi Campbell.
Best British designer: Giles Deacon.
Best international designer: Stella McCartney.
H&M young designer: Gareth Pugh.
H&M fashion photographer: Gilles Bensimon.