Ellen Degeneres Tweets About Royal Baby
Our Favorite Funny-Lady Tweets of the Week
Twitter went wild this week with the birth of His Royal Highness Prince George of Cambridge and the next big Anthony Weiner scandal, and our favorite crop of funny ladies cracked their best jokes in response. Elsewhere on the Twitter, Kat Dennings expressed concern about Justin Bieber's Instagram, Busy Philipps told us about her first trip to the gym after giving birth, and Sarah Silverman got a little wild with conspiracy theories.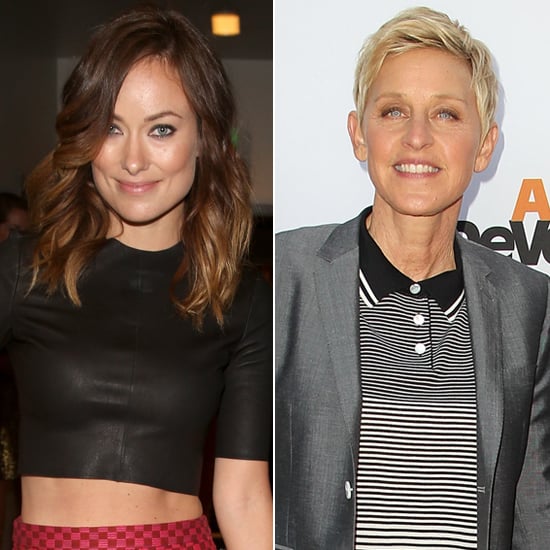 Check out the funniest tweets of the week when you read on!


Ellen Degeneres is excited for her 15th cousin, Kate Middleton.
It's a boy! So happy for my cousin Kate and the future King of England!

— Ellen DeGeneres (@TheEllenShow) July 22, 2013


Elizabeth Banks has caught onto the fact that Kate Middleton might be a sorceress.
Honestly, I am more impressed with Kate's blow-out than the #RoyalBaby which looks just like a human baby. But that hair!

— Elizabeth Banks (@ElizabethBanks) July 23, 2013


So that's why #RoyalBabyLabour was trending worldwide on Twitter!
Today may be a good day to announce my new EDM DJ name: Royal Baby Labour

— Rashida Jones (@iamrashidajones) July 22, 2013


Lena Dunham's makeup artists sure know how to make a gal feel special.
Makeup artist pointed to my pimple. Other makeup artist said "yeah, that's the one I was telling you about yesterday."

— Lena Dunham (@lenadunham) July 24, 2013


We're not entirely sure which crowning Olivia Wilde's referring to here, but we agree.
I don't understand how I'm still doing phone interviews when Kate Middleton is in labor. Don't they have to go cover the crowning?!

— olivia wilde (@oliviawilde) July 22, 2013


Listen, Busy Philipps, I do this too, and I didn't even have a baby recently.
Going to my first post baby spin class. 30 percent chance I will sit on the bike, not pedaling and cry.

— Busy Philipps (@Busyphilipps25) July 22, 2013


Are you sure you want to know the answer to this question?
Hey baby... is that a phone in your pocket or is your penis just really square?

— Anna Kendrick (@AnnaKendrick47) July 24, 2013


Comedy writer Kelly Oxford is way more in tune with irony than Alanis Morissette.
If Anthony Weiner can hold a press conference about his penis on National Hot Dog day, anything is possible.

— kelly oxford (@kellyoxford) July 23, 2013


Come to think of it, "Don't text and operate giant airplanes" has a nice ring to it.
Uh pretty sure we just had a close call here at JFK. Pilot hit the brakes like there was a red light and he was texting.

— christine teigen (@chrissyteigen) July 24, 2013


Mae Whitman's romance is surely one for the silver screen.
Sext: it's raining come pick me up and take me to get an apple pie from mcdonalds

— mae whitman (@maebirdwing) July 24, 2013


Mindy Kaling sounds like she has a lot of fun.
Another day, another mysterious allergic reaction to something I'm eating/wearing/rubbing on

— Mindy Kaling (@mindykaling) July 23, 2013


Comedian Whitney Cummings might be on to something. Is there an app for that?
Before sex I think a man should have to ask us if we would like a "push notification."

— Whitney Cummings (@WhitneyCummings) July 23, 2013


Go to bed, Sarah Silverman!
Not to be a conspiracy theorist but has anyone seen Chaz Bono and George Zimmerman in the same room?

— Sarah Silverman (@SarahKSilverman) July 22, 2013


Valid question: is there any emergency worse than running out of oreos?
every time my parents leave "emergency" money i make a joke about whether or not oreos count, and every time i am ignored

— Tavi Gevinson (@tavitulle) July 22, 2013


Kat Dennings speaks the mind of the masses.
Justin Bieber's Instagram is making me uncomfortable

— Kat Dennings (@OfficialKat) July 19, 2013