Ellen Page Tweets About DOMA
Our Favorite Funny-Lady Tweets of the Week
This week, some of our favorite funny ladies on Twitter sent out their best quips in response to the Supreme Court rulings on DOMA and Prop 8, whiles others shared their insights on airline food, the drink line at Starbucks, and a new nickname for smoothies.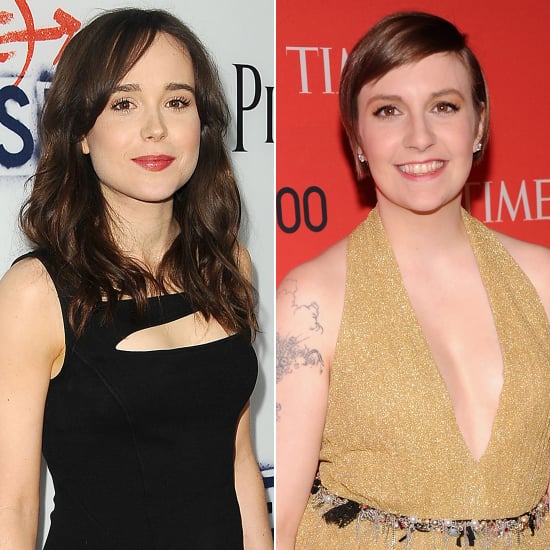 We've got the best funny-lady tweets from the week right here, so check them out below and get ready to crack a smile!


While thinking about your execution meal seems a little macabre, it's really all about the food.
This weekend I finally nailed down my execution meal: deep-fried PB&J. Never in my life has my stomach orgasmed so mightily.

— olivia wilde (@oliviawilde) June 24, 2013


Salman Rushdie's response was "Salmon may have been there but I wasn't. Anyway it sounds fishy to me." We're dead.
I'm not supposed to say anything but I think I saw Edward Snowden at my show last night. He was in row G, next to Salmon Rushdie.

— bettemidler (@BetteMidler) June 27, 2013


She may be small, but she really knows how to dish it out:
.@GovMikeHuckabee pretty sure Jesus would think you're a jerk. I mean he would like be nice to your face, but secretly think you were a jerk

— Ellen Page (@EllenPage) June 26, 2013


Read on to see the rest of this week's funniest tweets.


Alas, we've all had moments like this:
There goes my chances of rolling around with a carl's burger.

— christine teigen (@chrissyteigen) June 27, 2013


We want Diablo Cody to be our spirit guide. She just gets us.
I am very good at finishing my pastry before my name is called at Starbucks.

— Diablo Cody (@diablocody) June 24, 2013


Similar: ordering a large pizza "for your whole family" and then eating all of it. No shame.
Sometimes I sit on my hand till it's numb so it feels like someone else is googling my name

— Megan Amram (@meganamram) June 27, 2013


If you think about it though, this proposed term is way more accurate.
Proposal: rename smoothies "thickies"

— Samantha Bee (@iamsambee) June 26, 2013


The next logical step after gay marriage:
Siri, do I have time to marry my cat before lunch?

— Julie Klausner (@julieklausner) June 26, 2013


This sounds a little bit like a nightmare, but we're glad it only yielded giggles.
Woke up laughing myself out of my dream where a guy sitting in a Starbucks was wearing underwear with his balls hanging out. Best morning.

— kelly oxford (@kellyoxford) June 27, 2013


Ah, that rubbery lasagna and prepackaged brownie. Those were the days.
Remember when they served free food on airplanes and everyone bitched about it? Was that our Gatsby times?

— Kristen Schaal (@kristenschaaled) June 24, 2013


Crush your automobile! Wait. We meant to type, "Curse you autocorrect!"
autocorrect just made me email someone's husband that i'm "orally" available all weekend instead of "totally." quitting everything now, bye.

— Jenny Wade (@jenny_wade) June 26, 2013


Honestly, Lena Dunham's dog's diet doesn't sound half bad.
Things my dog has eaten today: an egg shell, a plastic bag that once contained meat, a Justin Bieber singing toothbrush

— Lena Dunham (@lenadunham) June 24, 2013


Good to know we're not the only ones who like to role-play Games of Thrones.
I was a Lannister yesterday, today I have to be a Stark again ugh

— Mindy Kaling (@mindykaling) June 25, 2013


This'll teach 'em:
Any straight person complaining about the Supreme Court striking down DOMA should be forced to hire a heterosexual wedding planner.

— Joan Rivers (@Joan_Rivers) June 26, 2013


But really, is anyone really about that life while lying around on Facebook?
On this glorious day, why am I getting garbage on my timeline about "reducing flab?" Really? I am not about that life today. #haters

— Official Wanda Sykes (@iamwandasykes) June 26, 2013