Emily Blunt Five Year Engagement Inteview
The Five-Year Engagement's Emily Blunt on Weddings: "It Should Be Very Personal to You"
Emily Blunt was in NYC last week to chat up her new movie The Five-Year Engagement, which hits theaters tomorrow. The movie was one of two Emily premiered at the Tribeca Film Festival. She also hit the red carpet to show off Your Sister's Sister. Five-Year pairs Emily with her pal Jason Segel, and the duo portrays Tom and Violet, a couple who has more than their fair share of difficulty getting down the aisle after a lengthy engagement. Emily spoke at a press event about relationship and wedding advice. She also touched on Five-Year's writer and star, Jason Segel, and how he "likes women" and wanted to write a comedy that flipped around gender stereotypes. Emily said: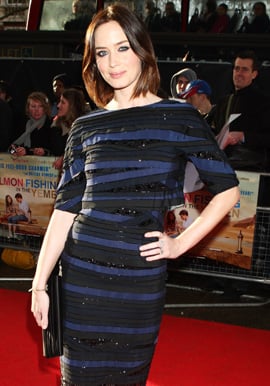 On how to plan a wedding: "Don't have too many cooks in the kitchen. It has to be your wedding. It has to be whatever you want. It's essential. A lot of the time people get married for other people — for your parents, for your relatives, for your friends. Everyone wants the big do, and the dress, and the ring, and the whole thing. I really think if you want to get married in your backyard, then you should. It really should be very personal to you. That's my advice."
On the importance of communication: "Really, life is complicated and it's shape-shifting all the time and you have to be willing to roll with the punches. And the main thing is — something I found hard to learn as a British person — was communication. It's a word that we all are terrified of in England."
To read Emily's secret to relationship success, and how The Five-Year Engagement flips stereotypes, just keep reading.
On the secret to relationship success: "I think if you're in a relationship, you have to talk to each other and be forever generous. The best relationships that I've seen of my friends, and hopefully that I'm in, is that you don't clip each other's wings. You have to really empower the other one to be everything they can be. I do think the relationships where I feel like one partner is stifled by the other's success — it's either because they're allowing themselves to be that or they're sort of martyring themselves in some way. I think that's usually an unhealthy thing. An equality of self-fulfillments is really important. Even if that means you're having to spend some time apart and you make sacrifices in other ways. Both people have to have some kind of purpose, some kind of identity. You don't want to end up defining yourself by some association with someone. Ever."
On how Five-Year flips gender stereotypes: "We tried to show a modern couple, really. It's the girl who has a career, and she moves off, and he has to follow . . . Jason likes women, he gets them. He sees the modern day couple. And he's like, 'Yeah, let's switch it around!' . . . I thought that was really interesting to switch it around the whole time. . . it seems different for a romantic comedy, but it's relevant for the world is like nowadays."