Emmy Press Room Interview With Julie Bowen and Ty Burrell
Modern Family's Ty Burrell and Julie Bowen Celebrate Their Twin Emmy Wins in the Press Room
The Emmys kicked off with a pair of supporting actor and actress wins for Modern Family's Ty Burrell and Julie Bowen, who play married couple Phil and Claire Dunphy. It's the first win for both Burrell and Bowen, and they hit the press room together to talk about their victories, especially since they were up against a few of their costars.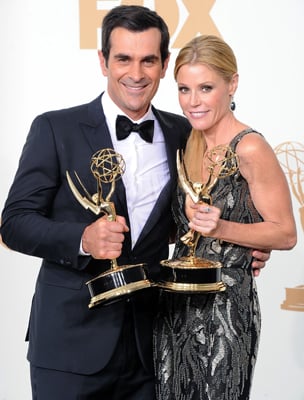 Ty Burrell, on being nominated against his costars:"Everyone's been incredibly supportive of each other."
Burrell, on costar Ed

O'Neill

's advice to him just before the winner was announced: "Ed said, 'Just remember whoever wins deserves it.'"

Julie Bowen, on whether she expected to win:
"I kind of thought it was a lock on Betty White. I think if I didn't have a dog in this fight — and I had two [herself and Sofia Vergara] — I would have voted for Betty White. Claire is not necessarily fall-down funny all the time."

Burrell, on Bowen's win: "I have to step in and say that I think it's an even greater credit to what Julie does that the straight person wins an Emmy, because I don't think that that happens very often. The fact that she won is due to her resourcefulness as an actor."
Burrell, on having support on and off screen: "I have the benefit of having a fake wife and a real wife. I get my nerves soothed by both of them. We basically get together and lean on each other and figure it out. My actual wife —" (Bowen interrupted him to call her "my sister wife") — "is a saint who comes from a long, long line of saints."
Burrell, on being part of a show that portrays gay characters in a positive light: "It feels very very good to be on a show that seems like it's slowly changing a lot of minds. Eric and Jesse obviously deserve all of the credit for that, along with our amazing showrunners. It's a great thing to just peripherally go to events or talk to family and have them start to talk about those characters like the same way they talk about the rest of the characters. It's pretty cool."
Bowen, joking about the same subject: "As a straight woman and part of a straight couple on the show, I feel marginalized. I'm happy that where it is an issue, we are helping to change minds."
Be sure to keep coming back to BuzzSugar for more press room coverage and Emmy highlights!