Eric Stonestreet Emmy Interview 2012
Two-Time Emmy Winner Eric Stonestreet Says "It's Nice to Win but We Like to Spread It Around"
Eric Stonestreet won his second Emmy for outstanding supporting actor in a comedy for Modern Family tonight, and the actor stopped by the press room. Though he's the only male cast member to bring home two Emmys, the actor was humble about getting trophy No. 2. Not only did he praise his costars, he was also grateful for his success in general. Check out what he had to say below: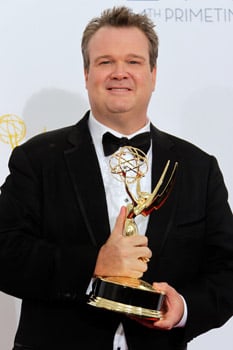 On winning a second time: "All of the cast of Modern Family, they are my family, we are each others' family. We do truly love each other. We know this isn't going to last forever, and we'll be the old show next year, or a couple years, who knows. We just want to enjoy it while we're here together. I was pulling for Jesse [Tyler Ferguson] or Ed [O'Neill] tonight; I know Julie [Bowen] was pulling for Sofia [Vergara]. It's nice to win, but we want to spread it around too."
On constantly trying to make Modern Family funnier: "The writers challenge themselves constantly. We take nothing for granted. We're very serious about the business of comedy and we are constantly trying to make the scene the best possible scene it can be. You don't become an actor because you like to rest on your laurels."
On what the atmosphere of the show will be like when he returns with a second Emmy: "It's gonna be pretty violent, I'm sure. I'm sure Ed's going to do his Brazilian Jiu-Jitsu on me, and Jesse's going to cock his head like this. No, like I said, we love each other. Maybe that won't always be the case, but that's the case right now. We're all pulling for each other. There's no competition at all between any of us."
On his Emmy ritual: "My ritual is my family comes out and goes to parties with me and meets famous people."
On persevering in his acting career: "I'm just proof that if you stick with it, and show up and be prepared, then you can stand on a stage and win a trophy. If there's someone thinking about quitting, and if I can be a little bit of an inspiration for them, I'm happy to take that role."