Eva Gets a Lift From Her Fellow Housewives
Start Slideshow
ADVERTISEMENT ()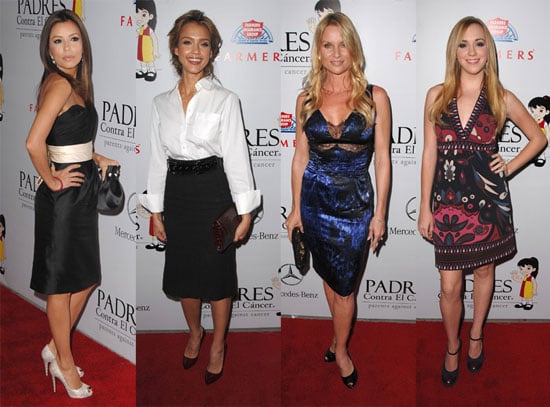 0
Eva Gets a Lift From Her Fellow Housewives
Eva Longoria hosted a benefit called El Sueno De Esperanza (the dream for hope) in LA yesterday. Her costars Brenda Strong and Nicollette Sheridan as well as Jessica Alba came out to support the charity, which gives money to kids and families that have cancer. Eva kept relatively quiet about her personal life, aside from revealing that she and Tony aren't planning on having kids any time soon. That said, she was more than happy to talk about being proud of her heritage and supporting the Latino community. Here's more:
"My wedding dress was by (Venezuelan) Angel Sanchez, and I try to do my best to wear as many Latino designers as I can.

My husband (in the series) Ricardo Antonio Chavira and myself, we're very, very proud to represent Latinos everywhere, all over the world, and we're happy to see positive images of Latinos on television."
How cute is tiny Eva in between her Brenda and Nicollette? So much for all those bickering stories between co-stars. These girls are not only doing great things for their community but they always seem to be supporting one another.
Lots more pics including Andrea Bowen, Daisy Fuentes and Lisa Rinna so just
Images include Jessica Alba, Eva Longoria, Nicollette Sheridan, Lisa Rinna, Brenda Strong, George Lopez, Harry Hamlin, Andrea Bowen, Daisy Fuentes, Constance Marie.