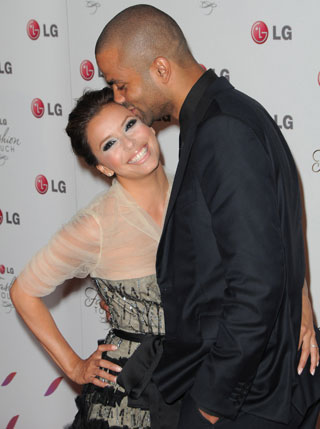 Update: Eva twittered the following statement, "It is with great sadness that after 7 years together, Tony and I have decided to divorce. We love each other deeply and pray for each other's happiness."
Eva Longoria is "devastated" but "strong" in the wake of her split with husband Tony Parker, according to her longtime best friend and Extra host, Mario Lopez. He confirmed that he spoke with Eva, who made it official by filing for divorce, seeking spousal support, and requesting that her name be returned to Eva Jacqueline Longoria from her married Eva Longoria Parker.
She told Lopez that she found "hundreds of text messages" from the wife of one of his NBA teammates, reportedly identified as Erin Barry who is going through her own divorce from fellow Spurs player Brent. There are rumors of more women who he's been keeping in touch with via Facebook. Eva has canceled her scheduled appearance at this Sunday's American Music Awards.