Eva Mendes Gets Gussied Up for The Women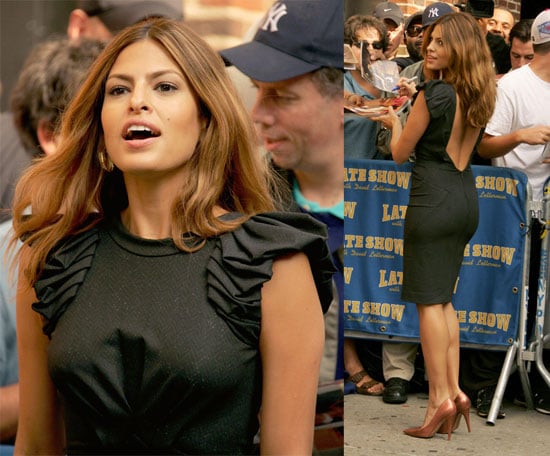 0
Eva Mendes Gets Gussied Up for The Women
Eva Mendes everywhere! These past couple of days have been Eva central around here as she goes around premiering and promoting We Own The Night, including last night's stop off at Letterman. Of course, she looked fab, especially in her hot Zac Posen number. Costarring with handsome men of the Joaquin/Mark W. caliber might get a little intimidating for a girl (even one as gorgeous as Eva), but she recently told the LA Times that she was more concerned with her appearance showing up for the rehearsals for The Women. BTW, have you seen the cast of that movie? So many women! Anyway, Eva said:
"I've got to tell you, I came from working on 'We Own the Night,' which was an all-male cast, into working on 'The Women,'...You would think I would be wanting to look good at rehearsals for the boys, but I never cared more about how I looked than with the girls. We would all come in our cutest casual outfits at rehearsal, and we would spend the first 15 minutes complimenting each other...It was total camaraderie. We were so there for each other."
So true that girls dress up for girls more than guys a lot of the time, but I doubt there's ever a moment where Eva looks like less than perfection. As for that huge cast of women — must have been a blast and I can't wait to see them all together on film! Until then, check out Eva in We Own The Night this weekend after reading Buzz's review tomorrow.