Eva Speaks the Language of Love
Eva spent some time overseas this week opening the Harrods Winter Sale in London. In fact, she seems to be spending quite a lot of time in Europe these days. That may have something to do with Tony, who was raised in France. The couple spent some time there this fall and now Eva is working hard to learn her love's native language. He, however, isn't giving her much help. Here's more: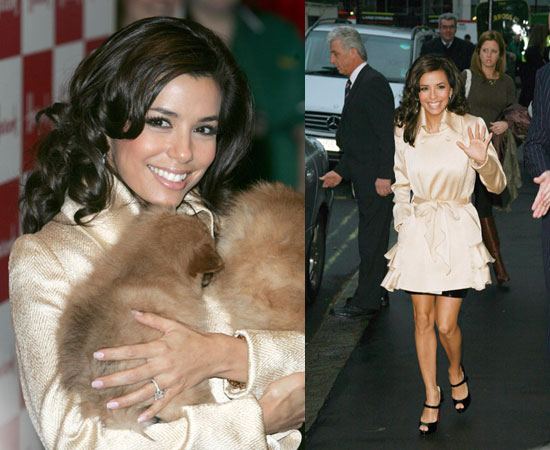 "He's terrible. He always wants to speak English," Longoria, 31, told PEOPLE Thursday while in London to open the annual Harrods Winter Sale. "I try to remind him but he always forgets and says it's easier and faster to speak English, but I want to understand."

She decided to master French the hard way – in a classroom. "I couldn't speak French before Tony. All I knew how to say was, 'My name is Eva.' I went to a Berlitz French school this summer, doing about five hours a day."

And how is her French now? "Great!"

Longoria spent Christmas in her home state of Texas and will be back in the U.S. for a quiet Dec. 31. "Nothing is planned for New Year's Eve," she said. "Tony plays that date so I'll be watching, sitting at a Spurs' game."
What a dedicated girlfriend Eva is! That doesn't sound like a very glamorous night, but she has one coming up soon. Rumor has it the wedding is July 7th! For more pics just read more