Exclusive Quotes From Heidi Montag and Spencer Pratt Talking About the 2009 PopSugar 100
Heidi and Spencer Talk Pop 100 And Think He Could Take On Robert Pattinson!
We revealed the 2009 PopSugar 100 on Monday, and while Robert Pattinson took home the number one spot, Heidi and Spencer Pratt had good showings as well. Spencer came in at number 76 and Heidi at 69, but both scored much higher when it came to most commented, with Heidi in the 10th spot and Spencer at 19. The reality TV stars chatted with us a little about their past year, revealing their highlights and ambitions for 2010. Here's more: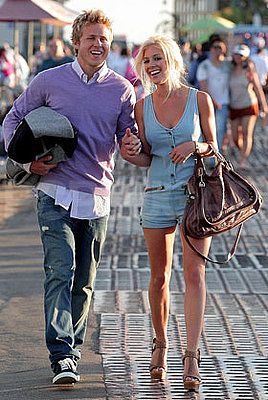 Spencer on who should rank high: "Anyone in Transformers or Twilight — that's cheating. Because if you give me a billion dollar marketing machine behind Speidi, we would be Obama right now. I like any underdog."
Heidi on what made their year great: "Definitely getting married. That has definitely made this one of the best years ever. I think we've just been working really hard . . . I have my album coming out on the seventh of July . . . I can't even tell you how rewarding it is to have this music out and have my fans receive it well."
To see what they had to say about who would win in a fight, Spencer or Robert Pattinson just read more.
Heidi on who would win in Spencer vs. Robert Pattinson: "Spencer, of course! Especially if it's a looks contest."
Spencer on taking on Rob: "I would fight the whole Twilight cast. Me versus all of them at the same time."
Heidi and Spencer certainly don't suffer from a lack of confidence — though we have a feeling there's some Twi-hards who might disagree about who would win any head-to-head matchup.