Exclusive: Would Peter Facinelli Be on Team Edward or Team Jacob For His Own Daughters?
Twilight won big at Sunday night's MTV Movie Awards, which was especially exciting for Peter Facinelli, who had never been before! He joked on the red carpet about his 15 years in the business with no visits to the fun show, but he was super excited to join the rest of the cast for their successful night. He gushed about being close to his costars saying, "I've had these guys over to my house for poker. We have dinner with each other. We're kind of like a family on and off set. It's kind of nice." Before he got to accept his golden popcorn, the actor who plays the Cullen family patriarch had to answer the hard questions — as a father of three girls with Jennie Garth, would he choose Edward or Jacob for his own girls? Also, do they have crushes on Robert Pattinson yet? Check out his answers below.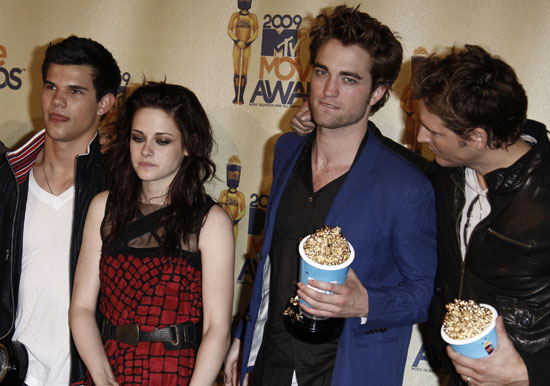 To see what he had to say just read more.
Team Edward or Team Jacob for his own daughters? "Wow. That's a good one, my daughter? Can we go with someone human? I'd like my daughter to date someone human."
Do his girls have crushes on Rob: "Not that I'm aware of. They're a little young . . . I hope not."
Well, it's only a matter of time . . . Also, in case you missed it, check out hundreds of photos and video of the cast at the awards!