Facinelli on Pattinson, Ashlee on Bronx, Hunter on Zac, and More at Showtime, CW, and CBS Party!
The stars of Showtime, the CW, and CBS came together at their TCA party in Pasadena last night. The Huntington Library was bursting with celebrities from all three networks who mixed and mingled at the gorgeous venue. Ashlee Simpson-Wentz looked perfectly petite in her sexy dress as she told us about how well-behaved Bronx is these days. Peter Facinelli and Jennie Garth both had shows to promote, though Peter was also happy to chat about feeling like Robert Pattinson at Twi-Con and heading back to work in Vancouver today!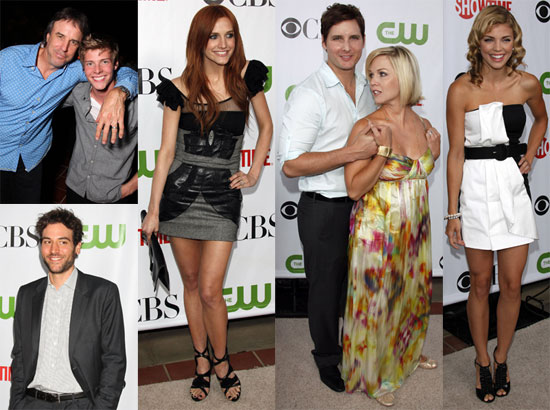 Weeds hottie Hunter Parrish was happy to joke around about not having any sexy scenes this week though admitted that his comments about High School Musical were totally blown out of proportion: "You know what's funny? I talked about that three years ago when it was relevant and now that it's not relevant at all everyone's talking about it." AnnaLynne McCord is always a blast to chat with and she was so excited to dish on the new season and her desires for a Gossip Girl crossover. Check out all the quotes after the jump and more coming soon!
To see lots more from the party and read what Peter Facinelli had to say about Rob, Ashlee about Bronx, and AnnaLynne about Gossip Girl just read more.
Peter Facinelli on Twi-Con: "It was phenomenal! It was probably the biggest event I've been to. 3000 fans from all over. I had a woman come in from Colombia. Another woman came in from Germany. It was pretty amazing. I don't know a lot of fans who would fly in from other countries for a weekend. At one point we were doing a Q & A and we were throwing paper airplanes into the audience that had the casts' signature on them. So I wanted to try and get one in the back [of the room], so I decided to run it to the back. It seemed like a good idea, but halfway through it got really scary. I don't know how I made it back. I thought to myself — now I know what Robert Pattinson feels like."
Ashlee on bringing Bronx to set: "He does [come to set a lot]. He's incredible. He's such a big boy. He's amazing! He's attempting to walk. I can hold him as he tries to walk — he's only eight months. He's learning fast. He's growing! He's such a big boy, it's good. He's nice and healthy and a happy baby, which you couldn't ask for more.
AnnaLynne on her dream Gossip Girl crossover: "I am still sticking to the Gossip Girl crossovers that need to happen. Naomi goes to New York. Beverly Hills girl falls in love with the bad boy — Chuck Bass and Naomi Clark. I very much adore Leighton Meester and that story line with Blair and Chuck but Naomi could come spice it up a little! Why not?
Kevin Williamson on keeping up with cast of Dawson's Creek: "Kerr Smith drove me here. I had lunch with James a couple of weeks ago and we vowed to stay in touch so we've been texting. The only one I haven't seen in a while is Michelle, who is in New York. I see Katie in LA."
Images include: Kevin Nealon, Jennifer Carpenter, AnnaLynne McCord, Ashlee Simpson-Wentz, Elle Macpherson, Jamie Kennedy, Jenna Elfman, Jennie Garth, Jennifer Love Hewitt, Jessica Stroup, Patricia Arquette, Peter Facinelli, Sara Paxton, Shenae Grimes, Simon Baker, Sophia Bush, C.S. Lee, Diablo Cody, Edie Falco, Hunter Parrish, James Remar, John Corbett, John Lithgow, Michael C. Hall, Robert Greenblatt, Rosemarie DeWitt, Toni Collette,Tracey Ullman, Robert Buckley, Laura Leighton, Grant Show, Chris O'Donnell, LL Cool J, Jenna Elfman, Allie Grant, Sofia Vassilieva