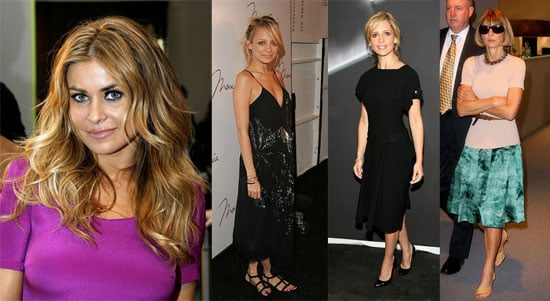 NY Fashion Week is cranking along and there are so many events each day that we are presenting you with today's exciting leftovers. Clearly Carmen Electra didn't get the white eyeliner memo as she took her heavy black lined eyes to the festivities, while Nicole Richie checked out the latest from Max Azria. Anna Wintour headed to Vera Wang where she was joined by SMG while Heather Graham and Wilmer Valderrama (which of these doesn't belong?) checked out the new G-star line. The star-studded excitement really never seems to end, so be sure to check out all of Fab & Bella's reports live from New York on ELLE.com and of course right here on the Sugar Network!
To see lots more pics including Ivanka Trump looking cute, just
Vera Wang
Images include Ivana Trump, Padma Lakshmi, Anna Wintour, Sarah Michelle Gellar, Vanessa Carlton, Lindsay Sloane, and Veronica Webb.
G-Star
Images include Pierre Morisset, Heather Graham, Selita Banks, Tyson Beckford, Jaime King, Nick Cannon, The Donnas and Wilmer Valderrama.
Around Bryant Park
Images include Sarah Michelle Gellar, Kat DeLuna, Mya, Ivanka Trump, Nina Garcia, Adrienne Bailon, Anna Wintour, and Carmen
Max Azria