Fergie Headed for an Oscar!!! Someday...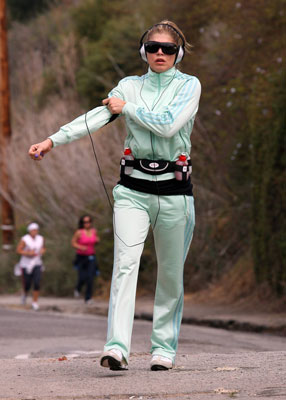 Fergie is back in LA and back to her strict training regimen, power juice fanny pack and all! That's the Fergie Fergs I love! Who am I kidding, I even love TMI Fergie. Only, a little bit less.
I'm especially excited to meet Stacy Ferguson, distinguished actress. Well, the "distinguished" part may have to wait, but she is making her big screen acting debut (Be Cool doesn't count, Poseidon shouldn't) this weekend in Grindhouse! Yay Fergs! Apparently she's not, um, brilliant. No matter, it sounds like the perfect project (one where we don't have to take anything too seriously and are there for a raucous good time) for Fergs to warm us up to the idea of her acting.
As for receiving esteemed awards? Well, those may take a little longer.