Will Ferrell At The Premiere Of Semi-Pro In LA
Will's Semi-Professional Premiere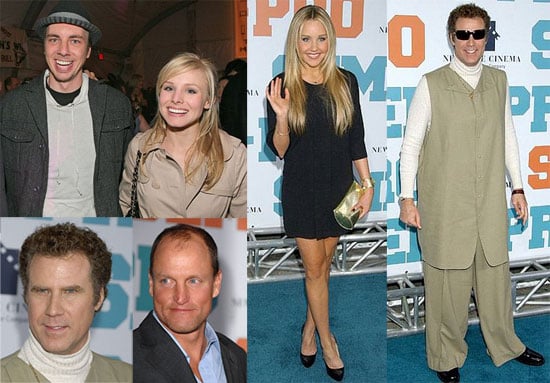 0
Will's Semi-Professional Premiere
Will Ferrell didn't have many of his frat pack buddies at the premiere of Semi-Pro last night, but he did manage to rally together quite a team. Kristen and Dax were super smiley about having their photo taken together, while Amanda Bynes looked cute as usual in her LBD. Not surprisingly, Will stole the show — he got decked out in an oversized suit he claims to have borrowed from Shaq. He also took a little trip down memory lane, sharing his worst athletic experience. He said,
"In junior high P.E., I was way too shy to take a shower in front of the other kids. It was a horribly awkward time — body hair, odors. … So I'd go from my sweaty shirt back into my regular clothes and have to continue the day."
We all know Will Ferrell isn't so shy about his physique these days (Old School ring a bell?), though we're pretty excited about the prospect of him getting back into his Anchorman suit.
Lots more pics including Stacy Keibler, Andy Richter, and Michael Moore if you
.
Images include: Amanda Bynes, Andre 3000, Andy Richter, Dax Shepard, Kristen Bell, Pete Carroll, Stacy Keibler, Will Ferrell, Woody Harrelson, Garcelle Beauvais, Michael Moore