Fox Day Means SYTYCD, Lots of Paula, Glee and Josh Jackson
So You Think You Can Dance kicked off Fox's TCA panels this morning with some Paula Abdul talk and — naturally — some dancing. Precious Cat Deeley introduced the popular routines from the season though the top four weren't able to come as they were busy getting ready for tonight's finale! Nigel Lythgoe continued to express how much he would love to have Paula Abdul on Dance, but also said he's not convinced she won't be back on American Idol. The Fox execs were up next and that was all about Paula, Paula, Paula — check out the big news from that here. After lunch the highly-anticipated Glee cast took the stage and Buzz has all the details of the panel. Joshua Jackson looked hot and brought out his sarcastic sense of humor promoting Fringe. He joked that Vancouver has "become Acapulco" weather-wise but that he "never expected to get the gift to be back home for work." He may always be Pacey to me, but he's clearly already gathered a new following for his popular sci-fi show.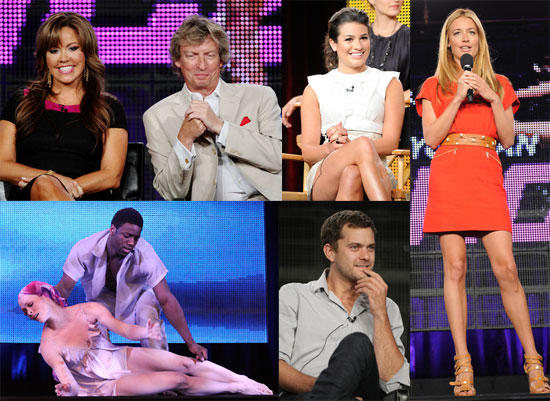 To see more from the day just
.
Adam Shankman, Mary Murphy, Mia Michaels, Cat Deeley, Nigel Lythgoe, Melissa Sandvig, Ade Obayomi, Jason Glover, Caitlin McKinney, Phillip Chbeeb, Ian Brennan, Matthew Morrison, Lea Michele, Jane Lynch, Lea Michele