Francis Bean's Dramatic Entrance
Francis Bean's Dramatic Entrance
Clown reminiscent make-up aside, Courtney Love seems to want to get her act together, but somehow her past keeps catching up with her. An upcoming biography of Nirvana details the crazy drama of the day that her daughter, Francis Bean, was born. It's disturbing, to say the least. Page Six reports: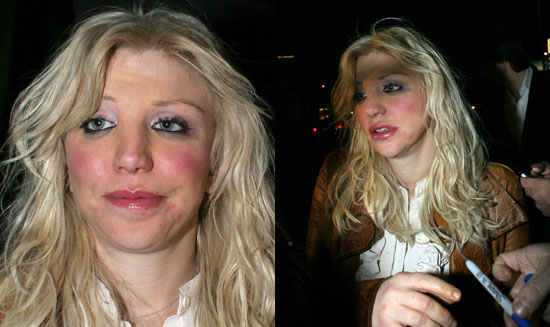 In "Nirvana - The Biography," author Everett True describes how Cobain and Love both ended up at Cedars-Sinai Medical Center in L.A. within days of each other in August 1992 - the grunge rocker checking in for a 60-day heroin detox stint and Love, a few days later, for complications arising from her pregnancy.

Two weeks into his stay, Love found herself about to go into labor. According to True: "Courtney - never one to miss an opportunity for drama - grabbed her intravenous drip stand at 4 in the morning, and wheeled it down the corridors to where Kurt was staying. 'You get out of out of this bed and come down now!' she screamed. 'You are not leaving me to do this by myself, [bleep] you!'

"Her husband followed her to the delivery room - weakened from his treatment, and hooked up to an IV stand himself - and passed out just moments before Frances was born." Then things got even weirder when, as Courtney related to True, "I'm having the baby, it's coming out, [Kurt's] puking, he's passing out and I'm holding his hand and rubbing his stomach while the baby's coming out."
Dear lord, how has Francis Bean ended up as grounded as she seems? Honestly, I would understand any level of instability from her, but she seems to be a relatively normal teenager. Well, we suppose someone's got to keep Courtney in check.