Funniest Celebrity Tweets of 2013
The Celebrity Tweets That Had Us Laughing Through 2013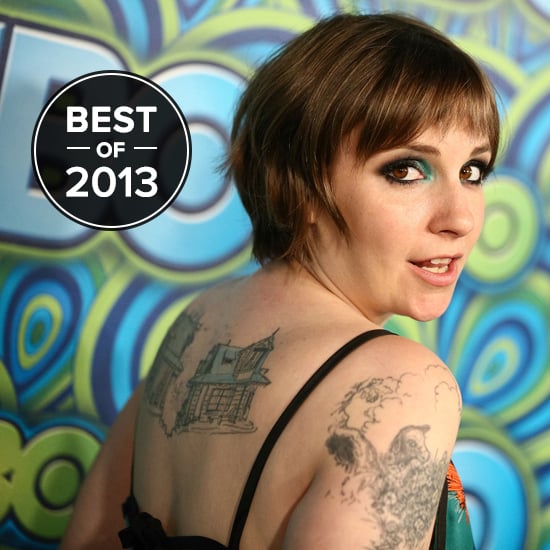 One of the best parts of scrolling through your Twitter feed is getting to see all the hilarious thoughts and quips of your favorite celebrities. From Sarah Silverman's Target struggles to Zooey Deschanel's grudge against nonfat milk, 2013's tweets brought us tons of tears of laughter. We're taking a look back at some of our favorites along with the most appropriate hashtag we could think of to go with them.
Nothing says "I don't really want to chat" like sitting alone in a restaurant with your laptop open next to your personal pan pizza

— Lena Dunham (@lenadunham) February 16, 2013
#SignMeUp
are we bringing back jelly sandals this summer or what?

— Kristen Bell (@KristenBell) May 17, 2013
#YouCanTry!
I love that The Arclight plays movie scores in the bathroom. Makes me feel like the stakes are VERY high when I'm peeing.

— Anna Kendrick (@AnnaKendrick47) June 5, 2013
#JurassicPee
I wish you could Shazam someone's face

— Rashida Jones (@iamrashidajones) July 31, 2013
#InventionsThatNeedImmediateFunding
Thank you, the day after Thanksgiving, or as the makers of sweatpants call it, "the busy season." #ThanksgivingThankYouNotes

— jimmy fallon (@jimmyfallon) November 28, 2013
#EatingPants
You guys, I just chased a waterfall. Don't do it.

— Zach Braff (@zachbraff) October 9, 2013
#Literal90sLyrics
People who type with their iPhones on loud are barbarians and probably killers

— Nikki Fre$h (@nicolerichie) May 16, 2013
#SeetheSigns


See our hashtags for the rest of our favorite tweets below!
Just farted on a wood chair in public but thankfully no one heard it because I have my earbuds in.

— kelly oxford (@kellyoxford) May 23, 2013
#CloseCall
heard 2 different dads plead, "ok let's focus" at Target today

— Sarah Silverman (@SarahKSilverman) May 27, 2013
#TargetStruggles
my milkshake brings all the boys to the yard, an they're like, what's in this, an i'm like, kale ginger & whey protein, & they're like ugh

— Jenny Wade (@jenny_wade) January 29, 2013
#LAProblems
Nonfat milk is like an insult to dairy.

— zooey deschanel (@ZooeyDeschanel) April 29, 2013
#FullFatForeverPlease
i may be crazy but that doesn't mean God can't talk to me in the shower.

— Jenny Wade (@jenny_wade) October 29, 2013
#YouOK?
Can I use Grindr to find a gay man to tell me if my outfit is okay?

— kelly oxford (@kellyoxford) May 15, 2013
#NotGeneralizingAtAll
Dear All Hotels: Why so many pillows? Are you planning to smother me? Are you hoping it will happen on its own?

— Samantha Bee (@iamsambee) May 20, 2013
#SignsYouMightBeStayingInTheShiningHotel
Shout out to quiche for being pie you can eat in the morning without people saying you're "depressed" or "need to get your life together"

— Julie Klausner (@julieklausner) February 24, 2013
#JustLetMeLiveMyLife
shocked myself on a wall socket. i think i am a superhero now but am not ready to test it.

— christine teigen (@chrissyteigen) June 11, 2013
#SocketGirlIsAWeirdSuperheroName
Proposal: rename smoothies "thickies"

— Samantha Bee (@iamsambee) June 26, 2013
#ISecondThisMotion
I've said it before and I'll say it again: I've said it before.

— Chris D'Elia (@chrisdelia) August 20, 2013
#WordsofWisdom
"I know lets put stickers on every single piece of fruit sold in America!" -Satan

— RainnWilson (@rainnwilson) August 26, 2013
#SlowNewsDayInHell
Unfollowing lifelong friends & valued colleagues for posting pictures of food today. Think you get a pass on Thanksgiving? Think again.

— rob delaney (@robdelaney) November 29, 2013
#Ruthless
I'm in love with every firefighter

— mae margaret whitman (@maebirdwing) October 24, 2013
#GetInLine