Gabrielle Union Bikini and Dwyane Wade Shirtless Pictures
Gabrielle Union and Dwyane Wade Going Strong Again, Looking Sexy as Ever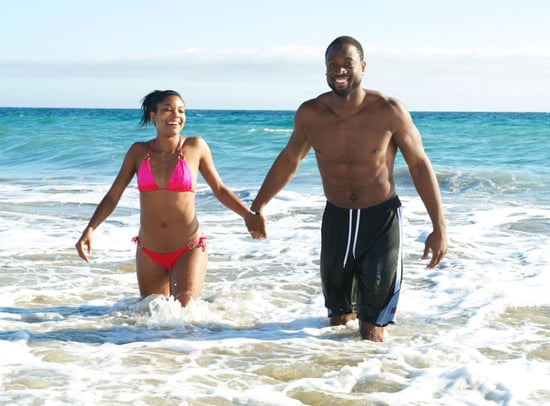 Summer may officially be over, but Gabrielle Union and Dwyane Wade kept the steamy vacation spirit alive with a trip to the beach in Malibu over the weekend. The hot couple shared a kiss, showed off their amazing beach bodies, and splashed around in the waves before hitting up some of the Emmy Awards parties on Sunday night. Gabrielle Union is turning 41 next month, and her bikini body is hotter than ever, which is something her superstar Miami Heat boyfriend clearly appreciates.
The two have been in California since attending Dwyane's teammate LeBron James's wedding last weekend. Dwyane also stopped by The Tonight Show to chat with Jay Leno on Thursday and admitted that the past few months hadn't been the easiest in his relationship with Gabrielle. The two apparently "took a step back" earlier in the year but came back together over the Summer, and the two are on again and obviously happy to enjoy some PDA in the waves.
To see the rest of the pics, just read more.