George Clooney's AMA on Reddit
All the Famous People George Clooney Mentioned in His Reddit AMA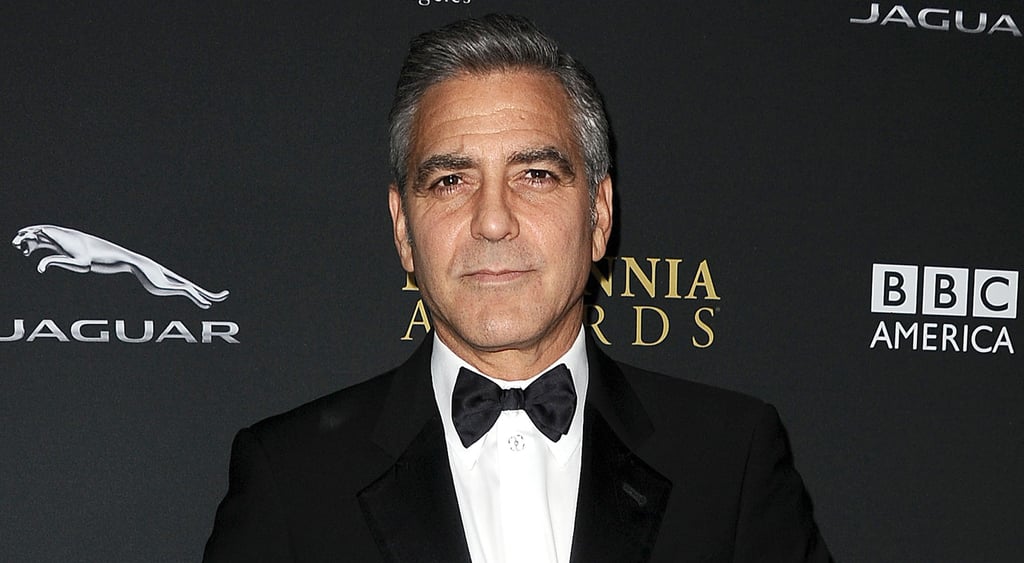 It's always thrilling when a celebrity does something totally unexpected, and that was exactly how we felt when we found out George Clooney's AMA (Ask Me Anything) was taking over Reddit today. AMAs are a chance for fans and "Redditors" alike to ask burning questions, and they've led to golden moments before — like Benedict Cumberbatch's AMA back in October. Every new AMA comes with its own unique flavor, and even though George was promoting Monuments Men, we ended up with a bunch of tales of his celebrity friends and run-ins. If you don't want to read the whole thing, we've included the highlights below!
On How Brad Pitt Responds to Threats:
"It was Brad, we were shooting Oceans 12 in my hometown in Lake Cuomo and he had a flyer sent around saying George only wants to be called by his character's name Danny Ocean, don't look him in the eyes, and it go into the local paper. As you know, jokes don't translate at all, and they called me il divo, and said that I was treating the crew like shit. When it got into the paper I came downstairs and Brad had the paper in his hand, and I said 'You're mine from here on out.' Brad just said, 'Please don't harm my children.' Yeah, he's done some pretty rotten things."
"Usually it's pretty funny. You know I got really good by Tina and Amy the other day and I'm working on getting them back in a big way."
On How He Loves Working With Matt Damon:
"I've done 6 films with Damon now, so I guess I do enjoy working with him, though you wouldn't know it. I've been really lucky to work with people who enjoy what they do. I've worked with a couple of turkeys, but I've mostly been really lucky."
"It's tricky cause Sandy drinks so much that oftentimes it's just hard to keep her upright. No, you know, Sandy and I have known each other for over 20 years and we both were struggling actors when we first met. She was dating a friend of mine at the time who's still a good friend of ours. Every time we're together it's funny. She's somebody I adore, really, she's just fun to be in a room with. I'm sure people will assume people aren't quite who they appear to be on screen — they're shorter or taller or meaner or dumber — but Sandy is exactly what she appears on screen, an incredibly charming woman who's really just fun to hang out with. Very smart and centered, even though she does drink a lot."
"It's true. That was a fun day. It's always fun when you play people younger than you and win. We're playing a bunch of six year olds tomorrow."
On How He Cobbles Better Than Daniel Day-Lewis:
"Let me just tell you this. When Daniel Day-Lewis was spending all his time playing Lincoln, I was just fixing shoes. He's spending all the time focused on the hat, and the pipe, and getting into character, and I remained focused — with the overalls and the hammer."
On Batman and His Batsuit:
"Well I wasn't thrilled with the nipples on the batsuit. You know that's not something you really think about when you're putting it on. You figure all batsuits have nipples and then you realize yours was really the first. Batman was just constantly cold I guess."
Bonus Question: On His Lonely Eyes:
"I actually have only one lonely eye. The other eye's got nothin' but friends."