George Clooney and Ben Affleck Golden Globe Awards Quotes
Ben Affleck and George Clooney Ham It Up After Big Argo Win
Ben Affleck, George Clooney, and the rest of the Argo crew stepped backstage to celebrate their huge Golden Globes best picture and best director drama wins this evening. Ben and George joked around with each other and played off the Oscar snub with humble thanks for tonight's honors. Ben even made a crack about the best actor omission that no one was talking about. Ben also gave a sweet shout-out to costar and good friend Victor Garber for marring him and Jennifer Garner.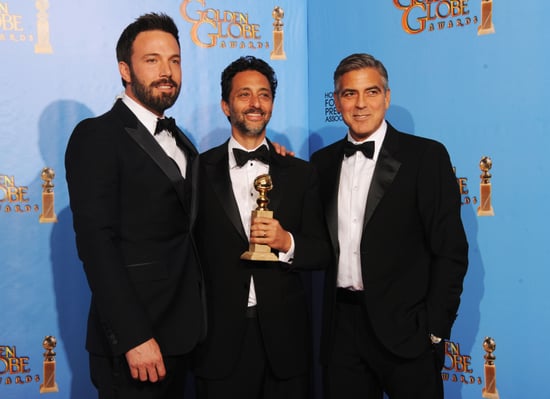 Ben on his Globes win and Oscar snub: "This is a purely wonderful night. I'm really grateful for this. We got nominated for seven Oscars, including best picture; I was thrilled. If you can't be happy with that, your prospects for long-term happiness are pretty damned. I'm elated. I'm the happiest guy in the world. Listen. I am a member of the Academy. The Academy is made up of people who made the movies who are nominated that we love. I am thrilled to get this acknowledgement."
George Clooney on having Ben direct: "He was cheap and available, like we like them. He was in actor jail for a couple of years. We've all done it — I was in Batman and Robin. It's how you handle yourself when you get there. He directed his way out of this. I can't tell you how proud we are to have worked with him and how much I hate him."
Ben on who should see Argo: "I think this is a movie for all audiences. I mean, I wouldn't take my kid, because I don't want her repeating the F word around the house."
George on Ben's Oscar snub: "I was disappointed. I think he did a phenomenal job with the film, and I think he should have been nominated, but he's still nominated for best picture. We got seven nominations, and he did an amazing job. It all happened because of what he put together. We're not out of the water altogether. It's not dead yet."